A couple guided by faith and giving: Thompsons named Spears Business Hall of Famers
Monday, March 29, 2021
Lucina and Kyle Thompson met at Oklahoma State University as freshmen and married a year after graduating. What happened in between was the development of a deep friendship before that friendship turned romantic.
For both, it was life-changing, as was their time at OSU where the couple developed a world view guided by their faith that placed serving others ahead of themselves.
The Thompsons followed that philosophy in their life together as they both worked in the corporate world and raised a family in Dallas. Their approach to life led them to work together to help others, both around the world and in their own community. Their successes in business, generosity to OSU students and faith-centered mentoring has impacted countless lives. The couple's personal and professional contributions led them to being named 2020 Spears School of Business Hall of Fame honorees.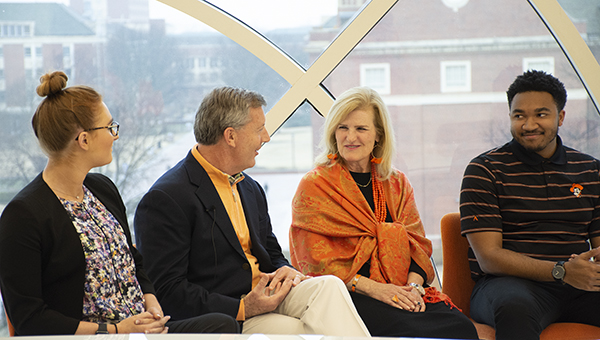 The annual Spears Business Hall of Fame banquet recognizes graduates with distinguished professional careers who have given back to their communities and to OSU and who have displayed strong career and personal leadership. As Hall of Fame inductees, the Thompsons will receive the highest honor awarded by Spears Business.
The Thompsons will join several Spears Business graduates who will be recognized later this year at the Spears Hall of Fame banquet following the rescheduling of the 2020 event because of the coronavirus pandemic.
Even in the large OSU auditorium filled with hundreds of students taking History 101, freshmen Lucina and Kyle noticed each other, though they wouldn't meet until later that first semester in 1977.
"I knew his name was Kyle Thompson because my best friend who was in the class with me, her name was Thomison and when they did roll call, they called his name right after hers," Lucina said. "And so, I spotted him on the first day."
The two met later when Kyle attended a lunch for family members of Pi Beta Phi sorority where his older sister was a member. Lucina, a Pi Phi pledge, met Kyle for the first time with an introduction from his sister.
Though they dated shortly during their freshman year, the relationship was short lived and, instead, they grew to become close friends over the next few years as they crossed paths frequently at sorority and fraternity functions and at the College of Business Administration where Lucina studied marketing and Kyle majored in accounting.
The pair would not date seriously until their senior year. In the meantime, both became involved in leadership roles on campus and in the business college. Encouraged by Lucina and others he met at OSU, Kyle became a Christian and that new-found faith changed his life.
"That was my first exposure to a Biblical worldview of life versus wanting to make as much money as I can," he said.
The growing friendship between Kyle and Lucina, a devout Christian, impressed him and made him want to also experience that faith in his life.
"She seemed to have a clarity and a maturity to her approach to life and to her studies that drew me to her at a time when I didn't have clarity," Kyle said. "At first, she wasn't going to date me because of where I was spiritually, but that didn't keep her from being friends with me."
The two joined a student Bible study group on campus allowing them to grow even closer. It wasn't until their senior year when Lucina's parents invited Kyle along on a family spring break trip that they began to realize they had deeper feelings for each other.
A year after both graduated from OSU in 1981, Lucina and Kyle married, but not before they began careers in separate cities. Lucina worked in marketing for a small independent bank in Tulsa and Kyle was in the energy practice of Arthur Young in Oklahoma City. With marriage at hand, Kyle transferred to Arthur Young's Tulsa office, where he worked in the firm's tax division, later also working for Deloitte & Touche. His time in Tulsa provided him with experience working with oil and gas clients, an industry where he would spend the remainder of his career.
Lucina's career also took off when she joined Bank of Oklahoma in Tulsa, managing retail marketing campaigns for one of the state's largest financial organizations at a time when national banking regulations changed how banks could market their services.
Settled in Tulsa and both pursuing promising careers, life threw the Thompsons a curve when Kyle was recruited to join a private energy exploration company in Dallas. Though neither thought they wanted to live or raise a family in Dallas, Kyle interviewed with Ken English, owner of Victoria Gas Corporation, who had heard about this industrious young man who in high school worked summers in the oil fields and who now was known for having a good head for financials. It took a couple of trips to Texas with Lucina to convince the couple that the opportunity was to too great to pass up, and Kyle accepted the position as the company's chief financial officer in 1985.
English became one of the greatest professional and personal influences in Kyle's life, becoming more of a mentor and role model than mere boss. Though highly prosperous, English approached the job of operating an energy company very differently from his contemporaries.
"He did so many things that would have been counterintuitive for someone who is trying to be financially successful, at least as the world defines it," Kyle said. "Working for him was huge for me because I saw a man who was very successful and yet didn't compromise on his values or his lifestyle. He encouraged life balance and when Lucina and I had our first baby he encouraged me to work less and spend more time with my family."
Soon, English named Kyle president of Victoria Gas where he continued to work until 2006 when he left the company to pursue other interests after spending more than 20 years with the company. Kyle continues to work in the oil and gas industry today, operating his own energy firm, KLT Energy.
Lucina continued her successful career in the banking industry when she joined a consulting and training firm in Dallasm which OSU graduate Robert Hall founded. Hall developed a business that guided the country's top banking firms.
"This was the late 1980s and banks were learning how to set up sales teams and bankers were becoming salespeople for the first time," Lucina said. "I developed a marketing department there and did consulting for years and traveled all over the United States and Canada and worked with some of the biggest banks in the country."
Lucina gave up her full-time position with Hall's firm when the Thompsons' first child was born in 1990. She continued to work for Hall part time until 1995.
The next few years introduced the Thompsons to another major life shift, the legacy of which continues to be at the center of their world to this day. A young pastor from the Thompsons' former church in Dallas had left to start a new congregation that he called Watermark Church. Lucina and Kyle and a number of other young couples met with to the pastor who described his vision for Watermark Church.
"He wanted the church to be something different than what we all had known it to be," Lucina said. "We were in a pivotal place in our life with young kids and what he said really resonated with us."
The Thompsons were among the first families to organize the church, which met for the first time with just 200 in attendance. Early on, Kyle was asked to be a church elder, while Lucina worked and participated in women's ministries and started women's Bible study groups that now serve more than 600. And for many years, Kyle and Lucina together have been leaders in ministries serving married couples. Today, Watermark Church has more than 15,000 members on campuses in Dallas, Fort Worth, Plano and Frisco.
"More and more people kept coming, attracted to the authenticity of the message. It was a wonderful place to raise a family," Lucina said.
For Kyle, Watermark Church provided what he describes as a higher level of accountability as a husband and a dad.
"It was easy for me to drift and to allow business to consume more of me than was healthy," he said. "I didn't want to be a cultural Christian and to go to church on Sunday but not live a life that's fully aligned with what Christ calls you to do."
The Thompsons not only felt called to help launch a church, but they also felt called to share their beliefs and knowledge with people far beyond Dallas. As a successful business leader, Kyle had the opportunity to teach faith-based leadership principals to African leaders in an effort spurred by meeting a Rwandan pastor attending Dallas Theological Seminary. The pastor and several colleagues at the seminary were committed to returning to Africa to address the continent's many problems from corruption to tribal violence to persecution of ethnic minorities.
"They identified the problem as a lack of leadership," Kyle said. "From the top down, beginning with a country's president all the way down to community leaders, they did not understand servant leadership. They basically treated their own people the same way oppressive colonial governments did."
The African pastors began the organization African Leadership and Reconciliation Ministry in several east-central African countries and invited Kyle and a group of American business and church leaders to visit to teach African leaders, including the president of Burundi, Biblical principles of leadership. That first effort led Kyle, and soon Lucina, to visit Africa more than 25 times, and half a dozen times with their children.
At home in Dallas, the Thompsons began a ministry that literally centered around their home. Over the years, Kyle and Lucina have hosted young people who live with them. Often their guests were students at Dallas Theological Seminary or other regional colleges and to date the Thompsons have hosted more than 60 young adults.
"We have tried to invest in young adults, because the returns are just amazing. We've done this because we saw that our own lives changed so radically during those years in college, so this is a great opportunity to invest our lives in these young adults."
- Kyle Thompson
The Thompsons' own two children are now adults and building their lives in Dallas. Their daughter, Audrey Burks, is a petroleum engineer with Pioneer Natural Resources. She is married to John Burks, who also works in the energy industry. The couple have a 1-year-old son.
The Thompsons' son, Jordan, who was a film major in college, moved to California and worked for a subsidiary of Fox Studios for a time. He recently returned home and now works for Watermark Church as a video producer.
The Thompsons, who are both members of the OSU Foundation Board of Governors, have contributed both their time and financial resources to OSU, including endowing business scholarships focusing on students with financial needs.
"When we set up our scholarship, we didn't want it to be based on honors and grades," Kyle said. "We wanted to help ordinary kids who are working hard in college and who maybe weren't as blessed growing up as Lucina and I. By helping these students, you can literally change the trajectory of their lives."
For the Thompsons, contributing their time is also important, which has led Lucina to become involved in The Women of OSU and in the couple frequently speaking to students at Spears Business.
"Speaking to students in the business school has just fueled us," Lucina said. "Giving time and talent is just as important to us as giving financially. To whom much is given, much is expected."
This video was presented at the Hall of Fame Banquet on Nov. 12, 2021 to honor the accomplishments of Kyle and Lucina Thompson.
MEDIA CONTACT: Jeff Joiner | Communications Coordinator | 405.744.2700 | jeff.joiner@okstate.edu