OSU online MBA climbs in national ranking
Tuesday, January 26, 2021
Spears Business among the nation's best according to U.S. News and World Report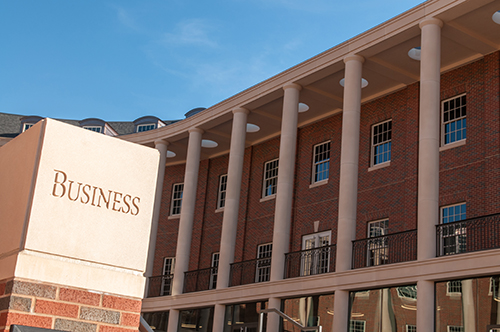 Oklahoma State University's online MBA program and overall online business master's degree options at the Spears School of Business were recognized among the nation's best in the U.S. News and World Report 2021 Best Online Programs ranking released today. The online MBA at Spears Business finished in the top 12 percent of national programs where rankings consider quality of faculty and teaching practices as well as the value students receive, according to U.S. News and World Report.
"We take great pride in our online graduate programs and we are gratified to see our dedicated efforts reflected in these rankings," said Dr. Ken Eastman, dean of Spears Business. "Our faculty do a tremendous job in the online classes and they are ably assisted by the staff in our Watson Graduate School of Management and the rankings reflect very positively on their combined efforts."
The Spears Business online MBA program is tied for No. 32 in the 2021 rankings of more than 294 colleges and universities surveyed and is the second best among Big 12 Conference schools. Last year the Spears Business online MBA was ranked tied for No. 40. In online graduate business programs, excluding the MBA, OSU was tied for No. 31, which was third among Big 12 schools. For services to veterans in online graduate business programs, OSU was ranked No. 20 in non-MBA graduate business programs and tied for No. 40 for the MBA.
"We have offered an online MBA program for a long time and have been ranked by U.S. News and World Report within the top 40 programs for many years. It is gratifying to jump by eight slots in the current environment where COVID-19 has led many more schools to offer their degrees online," said Dr. Ramesh Sharda, vice dean for research and graduate programs. "We have also made a quantum leap in our rankings for non-MBA graduate business programs."
U.S. News and World Report annually ranks online programs that allow students to complete degrees using online learning technologies. The rankings are based on school surveys and include information such as faculty credentials, graduation rates, instructional best practices and technology, admission data and program reputation among accredited business schools.
"The high rankings of our MBA and other business graduate programs reflects the excellent quality of instruction and the affordability of our online offerings, in addition to the excellent service we strive to provide all of our students by practicing the Power of Personal, the slogan for Spears Business," Sharda said.
The COVID-19 pandemic has increased the demand for online college programs across the country. At OSU, the MBA at Spears Business has experienced a 60 percent increase in online enrollment between January 2020 and January 2021.
To learn more about online graduate business education at OSU, including the MBA, visit https://business.okstate.edu/departments_programs/watson/online.html. To see the U.S. News and World Report 2021 Best Online Programs rankings go to https://www.usnews.com/education/online-education.
Media Contact: Jeff Joiner | Communications Coordinator | 405.744.2700 | jeff.joiner@okstate.edu