An old West story; how Frank Eaton shaped OSU's identity
Monday, October 17, 2022
Media Contact: Stephen Howard | Manager of Communications | 405-744-4363 | stephen.howard@okstate.edu
When Benny West was growing up in Perkins, Oklahoma, in the 1940s, there was a sign on the edge of town that said, "Home of the 500 friendliest people in the world."
That number has jumped to around 3,000 people now, but West is sure the tagline still applies.
Counted among the 500 smiling faces was a weathered blacksmith with braids down to his hip pockets named Frank Eaton, the real-life inspiration for the Oklahoma State University mascot, Pistol Pete. Eaton and his legendary .45 revolver have come to personify the trailblazing OSU identity, but to West and the residents of Perkins, he was the friendly old-timer down the street with endless tall tales.
"He was one of a kind," said West, now 86, as he reflected on growing up a couple of streets over from Eaton. "I thought he was an old-time cowboy, and I guess he was."
Born in Hartford, Connecticut, in 1860, Eaton was that and more. Legend has it Eaton's father was murdered when he was 8 years old and he swore revenge on the men who were responsible. Eaton learned to shoot a gun like no one else on the frontier, and he spent the ensuing years crisscrossing the country exacting his revenge.
With those debts settled, a 29-year-old Eaton joined the land rush to the Oklahoma Territory and found a place on the Cimarron River near Perkins to serve as the local sheriff. He went on to open a blacksmith shop, raise a family and unintentionally forge a new identity for the OSU community just by being himself.
To West and the kids in Perkins, an afternoon of storytelling at Eaton's house was a journey into swashbuckling adventure.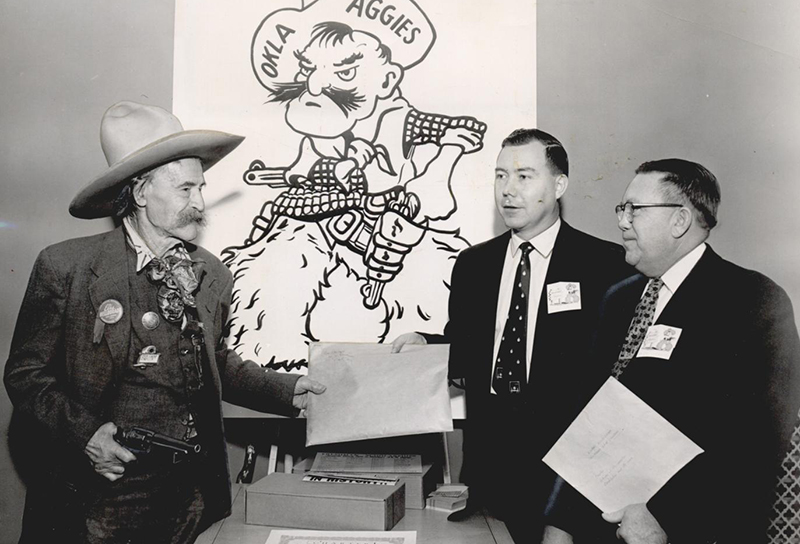 "My cousin and I would always stop by his house and talk with him," West said. "He was always sitting out on his porch, so everybody in town would come by and visit from time to time."
One visit to Eaton's place ended with an upset stomach when West and his cousin accidentally discovered Eaton's affinity for Brown's Mule Tobacco, a chewing plug sold in a small rectangular package about 3-inches across. To the West kids, Brown's Mule looked exactly like a chocolate bar, and the two made the mistake of a lifetime when the grown-ups weren't looking.
"Golly, did we get sick," West said. "I remember laying in the middle of the dirt street heaving my insides out. That was my last experience with chewing tobacco. I never wanted any more."
West managed to recover, and a few years later, he found himself drawn 10 miles up the road to Oklahoma A&M College to study accounting. The 1950s were a remarkable time to be on campus in Stillwater.
The school was in search of an identity, both academically and reputationally, and Eaton's rugged persona became the model for the new brand. The school changed its name to Oklahoma State University in 1957, and a year later, OSU made the Eaton-inspired Pistol Pete their official mascot.
"There was a lot of buzz on campus," said West, who had a front-row seat to the updates. "You had the feeling like OSU was going places and that it was going to change your life. We were going from being a small school to a big school, and we had a new heritage to go with it."
West met his wife, Irene, at OSU, and he earned his bachelor's degree in accounting in 1961. He began his career at a local accounting firm, but six months later was drafted into the U.S. Army to serve in the Vietnam War. West returned from military service to a job at North American Aviation in Irene's hometown of Tulsa. He worked in the business side of the aerospace industry until his retirement in 1996.
Raising a family in Tulsa made it tough for West to get back to Stillwater as often as he would have liked, but he could hardly believe his eyes when he returns to campus today. Enrollment has more than doubled since he took his first classes in 1957 and the campus has grown by leaps and bounds.
His first tour of the new Business Building was in October with his son, Steven West, an Instructor of Professional Practice at the Spears School of Business Hospitality and Tourism Management program. Benny beamed at how far his alma mater had come, and the sentiment wasn't lost on Steven.
To Benny, the 1957 vision of turning OSU into a "big school" is coming to fruition, and he has a sense of fulfillment in knowing the old blacksmith from Perkins had a hand in that.
"I'm proud of the way this place is coming along," he said. "I have no idea what it's going to turn into in the next few years, but I'm sure it's going to be big."