Spears senior blazing path to her dream job in sports
Thursday, September 29, 2022
Media Contact: Stephen Howard | Manager of Communications | 405-774-7756 | stephen.howard@okstate.edu
Haneen Rashwan always figured she would grow up to become a doctor, or maybe go into marketing or international business. Sure, she loved sports — and the thought of someday working in the NBA sounded glamorous — but that was just a daydream.
That is, until her favorite Spears School of Business instructor, Dr. Maribeth Kuzmeski, came up with an idea that ignited something within Rashwan and the world of sports.
"We have this underlying rule within Spears," Rashwan said. "Anything that Dr. Kuzmeski does is absolute gold, and you need to follow her into the fire."
The fire Rashwan followed Kuzmeski into was set by landmark NCAA legislation enacted in July 2021, which allowed student-athletes to benefit financially from their name, image and likeness (NIL). The legislation overturned decades of NCAA precedent and turned college athletes into businesspeople overnight.
Many athletic departments struggled with how to educate their players on the basics of NIL, let alone how to succeed in marketing and entrepreneurship, but leave it up to a Spears Business professor to come up with a groundbreaking solution.
Kuzmeski wanted to use Spears Business students to assist OSU student-athletes. After all, Spears Business has a surplus of marketing and entrepreneurship students that could step in and put the skills they learned in the classroom to work in the real world. More than anything, she knew that NIL would be the next big thing in college sports, and if any place was going to succeed, she wanted it to be OSU.
She formed an official student group and called it the Brand Squad, and she knew the perfect person to get the project off and running: Rashwan. Something told her that the shy girl from the Marketing Club would blossom in this new NIL frontier.
"She said, 'but I've never been in leadership before,'" said Kuzmeski, recalling the stunned look on Rashwan's face. "I told her, 'Listen, I've been watching you and you're a leader.'"
"There aren't a lot of women in this space. I'll take that one step further - there aren't a lot of Middle Eastern women in this space. So, for me, one of the biggest things I want to take from my career is opening the door for people like me who have been told that they can't do this and help them change that narrative."
— Haneen Rashwan
With Kuzmeski and Rashwan together, the Brand Squad got organized and got to work. They built an executive team of five with five more "general managers" who handle everything from recruitment to social media and even fundraising. Each Brand Squad member was then paired with a student-athlete to help them generate NIL opportunities, assist with their branding and social media, and work on ideas to monetize their NIL. The best part — the service is completely free for the student-athletes.
It didn't take long for Kuzmeski's idea to catch the attention of the college sports industry. OSU Athletics was named one of six finalists for Best Institutional NIL Program at the first NIL Summit. The selection committee for the award included representatives from Meta, Team USA, student-athlete NIL platform INFLCR[SB1] , the Wasserman Group, NFL running back Saquon Barkley, journalists Nicole Auerbach from The Athletic and Darren Rovell from the Action Network.
Kuzmeski's phone and email started lighting up. Schools from across the country wanted to know how they could start their own Brand Squad, which led to Kuzmeski developing her own courseware for schools and athletic departments alike. You can check it out at brandsquad-training.com.
All the while, the OSU Brand Squad saw its numbers explode. In less than a year they went from a dozen Spears Business students mentoring six student-athletes to nearly 100 members and 100 athletes.
"Not only is Haneen a good leader, but she comes up with different ideas because she thinks ahead," Kuzmeski said. "She came to me and said that we need to start a podcast. I said, 'Haneen, this is a lot of work. We're just getting this organization started. Are you serious?'"
She was serious, and the podcast proved to be a hit. The Brand Squad Podcast[SB2], available on Spotify, is hosted by the on-field hype man for Cowboy football and basketball, Les Thomas, and has featured OSU football captains Kanion Williams and Brandon Evers, as well as standouts from multiple other sports like track and field, wrestling and the national champion Cowgirl equestrian squad.
The podcast formed a bridge between the Brand Squad and the athletic department, and gave the organization a regular touchpoint with fans and potential NIL sponsors while giving student-athletes a story-telling platform.
Rashwan's good ideas kept coming. The Oklahoma City native was instrumental in organizing the club's first student-athlete autograph-signing event, which brought in dozens of student-athletes for a meet-and-greet with fans at the Business Building. It also brought sponsors and food vendors to the table.
"I had to think long term with this organization," Rashwan said. "Because I was the first president, I couldn't just think of my time running the organization. I had to think about everyone else's time after me. So, I wanted to create the foundation for the next 10, 20 or 30 years. The biggest thing was to get people to understand what the goal is."
That goal is to show the OSU community the positive side of NIL. Rashwan realized early on that to ink NIL deals for student-athletes, she would have to convince fans and alums — and the businesses they run — that they're helping OSU succeed when they participate in NIL deals with the Cowboys and Cowgirls because player recruitment is now inexorably tied to the success of a school's NIL program.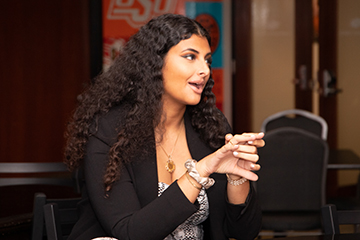 As you could imagine, this line of intuitive thinking caught the eye of Barry Hinson, who was named OSU Athletics' first director of NIL in late July. Hinson reached out to Rashwan just days after starting his new role and asked her to bring her expertise over to Gallagher-Iba Arena and become the first NIL intern for OSU Athletics.
"She has disproved the old saying that you can't teach an old dog new tricks," said Hinson, who described their relationship like that of Batman and Robin. "She's such an impressive person, and she's the product of a great education from both the Spears School and from Dr. Kuzmeski and the Brand Squad. There are 363 Division I programs out there, but we're proud to say that we're No. 1 in leading the charge in NIL, and that's due in large part to the folks at the Spears School."
Hinson is a longtime basketball coach and he has the charisma and recruiting chops to match his impressive résumé, which includes 18 years as a Division I head coach at Oral Roberts, Missouri State and Southern Illinois. He's also a 1983 Oklahoma State graduate who bleeds orange.
He and Rashwan form an impressive one-two punch, with Hinson handling the high-energy recruiting pitch to potential donors and businesses and Rashwan helping to build the plans and put them into action.
"I love his ambition and I love his passion," said Rashwan, who joked that she could chug 10 energy drinks and not match Hinson's pep. "Barry has passion for OSU and tons of community ties. He didn't get into this wanting to be an NIL director. Barry is a community guy that is trying to help out Oklahoma State from every aspect."
If her track record is any indication, Oklahoma State's NIL program is about to get a boost thanks to Rashwan's ideas and ambition. Her career options will likely do the same. Rashwan will earn her bachelor's degree in marketing and management in December and plans to have her Spears School MBA in hand in December 2023. She hopes to add a law degree to her résumé at some point as well.
Rashwan now knows that a career in sports isn't the daydream she once thought. It's an attainable goal that has aligned her passions with her skillset and helped her realize her potential. Now, that potential is focused on inspiring the next generation.
"There aren't a lot of women in this space," Rashwan said. "I'll take that one step further — there aren't a lot of Middle Eastern women in this space. So, for me, one of the biggest things I want to take from my career is opening the door for people like me who have been told that they can't do this and help them change that narrative."
Changing that narrative started at OSU for Rashwan. She is still serving as the Brand Squad president while working for Athletics and pursuing her MBA, and she can't imagine where she would be without Kuzmeski and Spears Business.
"I think Spears is one of the best business schools in the nation, honestly, especially when it comes to innovation," Rashwan said. "You see it in the Riata Center. You see it with the professors and the work that they have done, and the way they're always thinking two steps ahead."