From Braum's to OSU, Blackwell Is paving path to success
Wednesday, October 12, 2022
Media Contact: Stephen Howard | Manager of Communications | 405-744-4363 | stephen.howard@okstate.edu
Daysia Blackwell was like a lot of 15-year-olds in Duncan, Oklahoma — in need of a job to pay for after-school activities. The local Braum's Ice Cream and Dairy store hired her on, but looking back, Blackwell ended up getting a whole lot more than just a paycheck.
Hyon Pak runs a tight ship. The longtime manager of Braum's store No. 42 has the heart of a teacher, but she doesn't put up with slouching on the clock. She also has a spicy one-liner for every situation.
"If you have time to lean, you have time to clean," is one of Pak's favorites.
Blackwell is hardly the type to lean, but the message stuck, and she turned into a model employee under Pak's guidance. Pak took the time to help mold Blackwell into a leader, and that mentorship set her up for success at Oklahoma State University and in the Spears School of Business Hospitality and Tourism Management program.
Blackwell, now a senior at OSU, is still working at Braum's, but it's at store No. 32 in Stillwater, and she has even less time to slouch.
The 22-year-old is taking 14 hours of classes this semester and has an impressive list of campus accomplishments; Camp Cowboy leader, captain of the OSU Color Guard, Wine Forum of Oklahoma executive team, Res Life Community Mentor and facilitator for the SUMMIT leadership program. Blackwell also applied for OSU Seniors of Significance.
"See a need, fill a need," she said, quoting another of Pak's mantras. "That has pushed me to be as involved as I have, because there are so many needs everywhere. I don't know what I would do if I didn't have all these things to do, honestly. I work best whenever I'm super busy."
A lifelong OSU fan and a first-generation college student, Blackwell knows that she was born for the hospitality industry. She credits her family for the support, Camp Cowboy for introducing her to the OSU community, and the university's faculty and staff for helping point her in the right direction.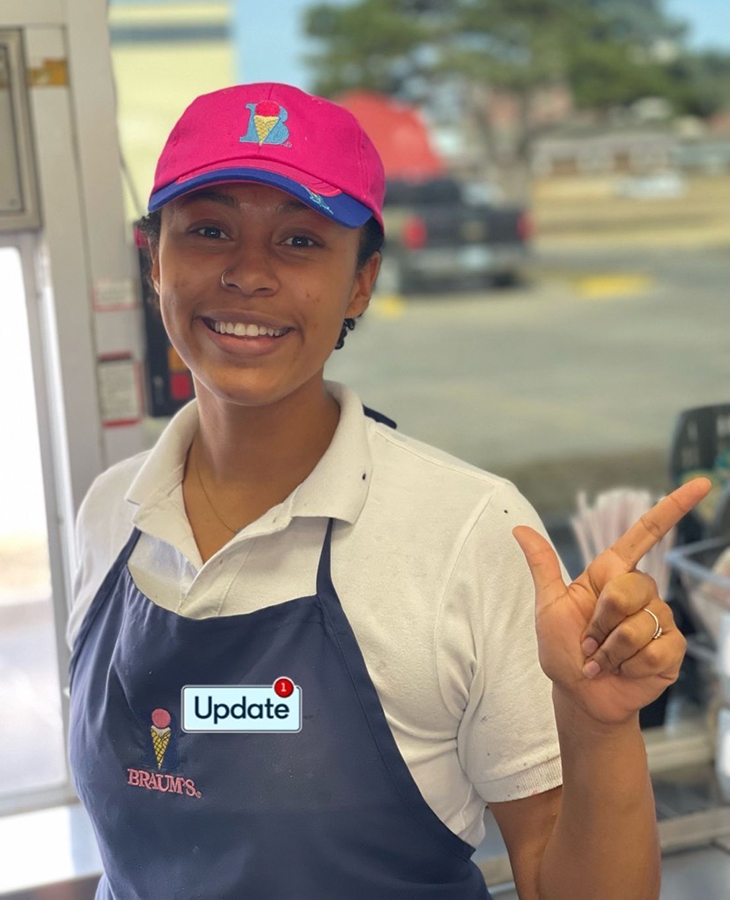 The curriculum of OSU's Hospitality and Tourism Management program is right up her alley as well. Led by department head Dr. Brij Thapa, the Spears Business HTM program is focused on creating leaders in the global hospitality industry with a business-focused curriculum and hands-on, state-of-the-art learning labs where students gain the experience they need to begin their career. Blackwell said this is one of the things that will set her apart when she enters the workforce.
"You get to understand where people are coming from," she said. "A lot of people don't get to have that experience, and when they get into management roles, they can't understand why their employees aren't hitting their quotas. But they've never had to hit a quota themselves."
Always a planner, Blackwell has things well mapped out going forward. She will have her bachelor's degree in May and earn her master's degree in May 2024 thanks to the HTM department's 4+1 program. Eventually, Blackwell has her hopes set on being a resort manager.
No matter what she does, no one can accuse Blackwell of not taking full advantage of her time at Oklahoma State. Thanks in part to the lessons learned at Braum's store No. 42, she managed to turn herself into a big fish in the OSU pond.
"I've made the pond pretty small, honestly," Blackwell said. "There isn't hardly anywhere I go that I don't see someone I know. But this world is pretty small when you're a people person."