Taking his shots at college bar
Monday, November 14, 2022
Media Contact: Bailey Stacy | Communications Coordinator, Marketing & Communications | 405-744-2700 | bailey.stacy@okstate.edu
Face2Face with Reid Rector
It was a Wednesday trivia night last July at College Bar on the strip in Stillwater when Reid Rector first tempted his fate at the foosball table. After teams get through the trivia portion, the champion is decided on a winner takes all game of foosball. The prize? The all-coveted $50 bar tab. And, of course, bragging rights.
Rector was on the five bar, the middle row with five players, when the other teams' goalie tried to shoot and he stuffed it back in his opponent's goal for the game-winning shot.
While this was his first time playing the game competitively, he was not unfamiliar with the sport.
"Growing up, I had a table at my house because my dad used to play in college, and he always kind of wanted to bring it to the family," said Rector, a first-year MBA student at Oklahoma State University's Spears School of Business and an OSU mechanical and aerospace engineering alum from Broken Arrow, Oklahoma. "It wasn't until college when I really got involved."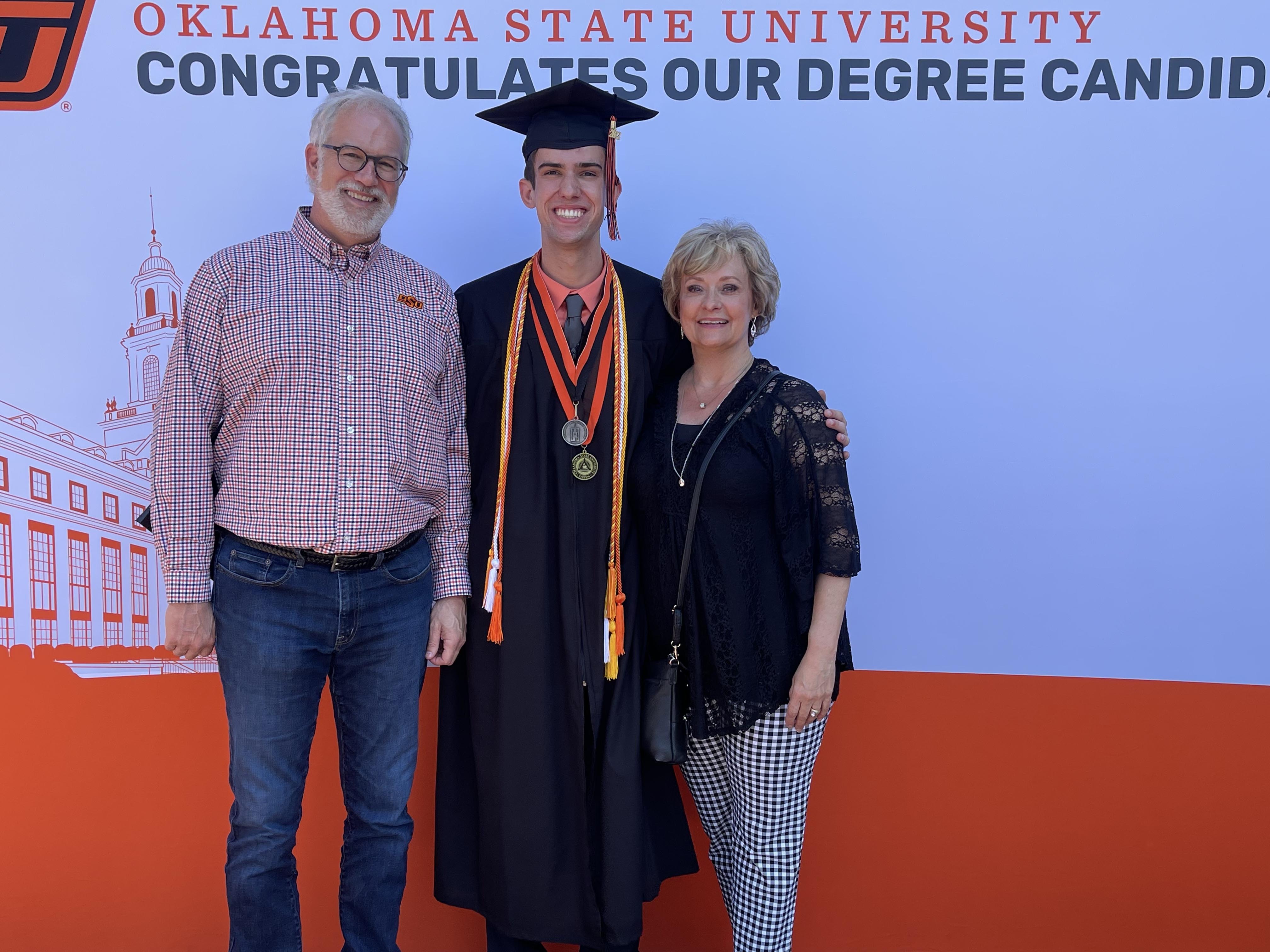 When playing against his dad as a child, Rector's scores were always worth five points and his dad's were worth one until slowly his experience level grew and his points became less and less. Eventually, the father-son duo were foosing on an even playing field.
After his first big win at College Bar, his skills caught the attention of bar owner and former state foosball champion Javi Cervantes, who knew Rector as the bass player in the Funk N Beers band which plays at the bar every Thursday night. Cervantes noticed Rector was utilizing actual technique and not just spinning the bar, so he began coaching him and became his foosball mentor.
"Every time I would go, we'd stay until closing," Rector said. "I would lose a lot, but he would always teach me something new and always teach me something to think about or spotlight something I was failing to conceptualize, so I could improve and hopefully make the score a little bit closer the next game.
"I learned a lot about how the table was, how not to shoot it straight against the wall and how to actually aim for the goal, just basically the fundamentals of how to play."
Eventually Rector sharpened his skills to the point where he began competing in national tournaments. He has competed in the Texas State Championship, No Pro National Championship, Tornado Table World Championship and Halloween Open Foosball Tournament. He has placed at three of the four tournaments, winning the 2022 beginners doubles Tornado World Championship and 4000 Limited at the No Pro National Championship and placing second at the Halloween Open Foosball Tournament in the 5,000 limited division.
Although Rector has been participating in competitive foosball for just a short time, he has already made a name for himself in the sport. He has been featured on Foosball Radio and the Foosball Sports Network. He has advanced from the beginner level to rookie and is on his way to amateur.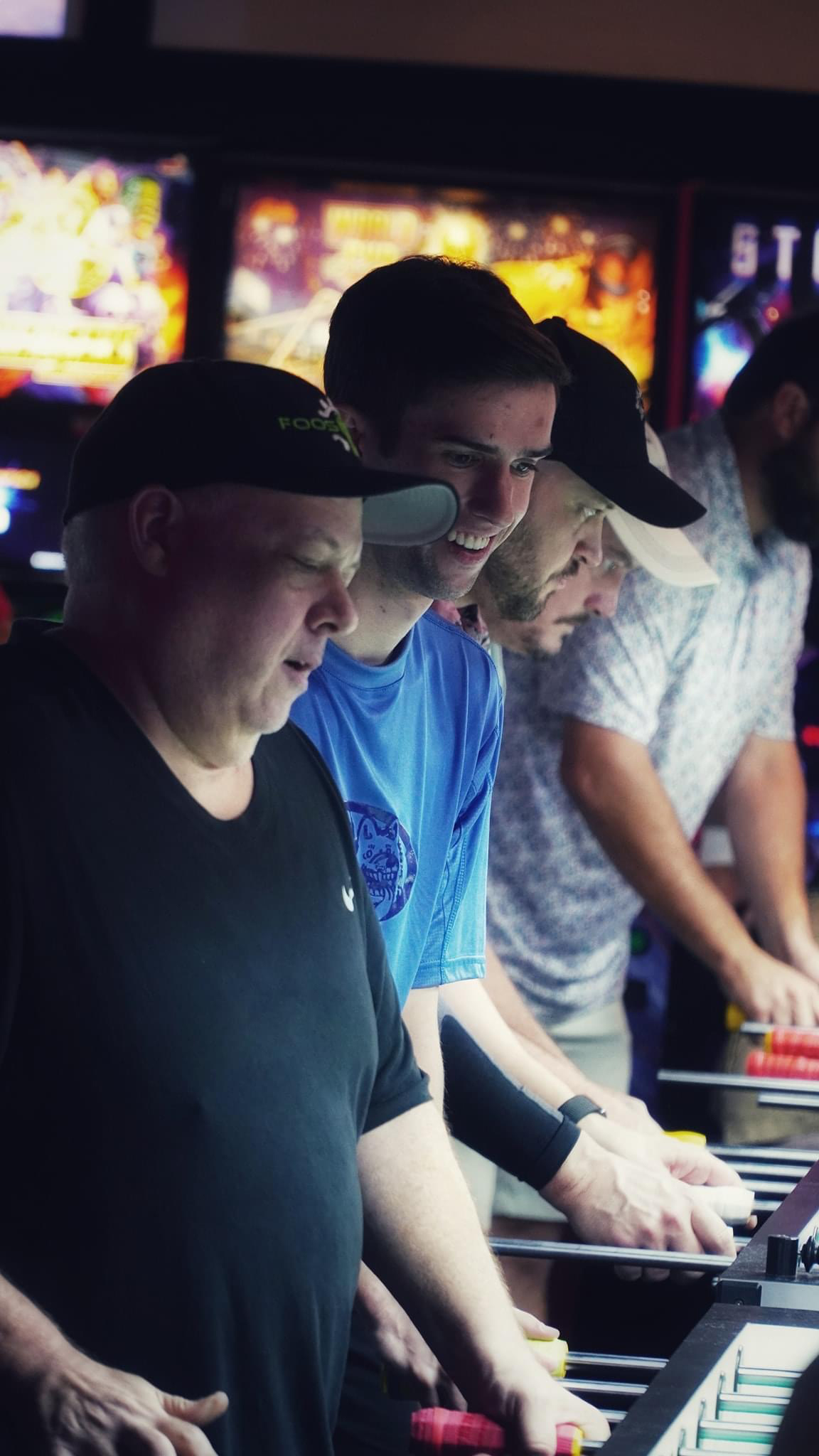 "Reid really takes his time for a guy who has been playing for nine or 10 months," said Duane Stuart, Rector's partner for Beginner Doubles at Worlds. "He will not be a rookie long. At one point Reid stopped four in a row!"
He has had the opportunity to play with and against competitors from all over the world including England, Russia, Canada, Mexico, Peru and Costa Rica, as well as all different skill levels from beginner to professional master. Rector along with his open doubles partner at the Halloween Open, Clay Tumey, were able to defeat top professional players on their way to a top 10 finish, which was higher than any other rookie in open doubles.
"It's almost like a chess game on a wooden table with plastic men and a ball," Rector said.
Rector is passionate about growing the sport of table football at OSU by creating a club and opportunities for students to learn about foosball. He also looks forward to someday hosting his own foosball tournament for OSU students in the Cowboy Underground.
"I learned so much about life through foosball," Rector said. "It's crazy to think that a sport with little men and little plastic ball can teach you so much. I've learned a lot about discipline, it takes a lot of time and a lot of focus to be able to do the same thing for five hours just to see maybe one tiny improvement in one part of your game. I've learned a lot about empathy, I learned a lot about listening and just understanding other people. Gosh, there's so many great things I've learned through foosball."
He is a student of life and looks for any opportunity to learn something new whether it be from school or experiences.
"Coming from an engineering degree, it's been great learning all the technical aspects of work," Rector said. "But I love the opportunity the MBA provides to just learn the soft skills, learn how to work with people, learn how to hopefully make people's lives better through the work that I do."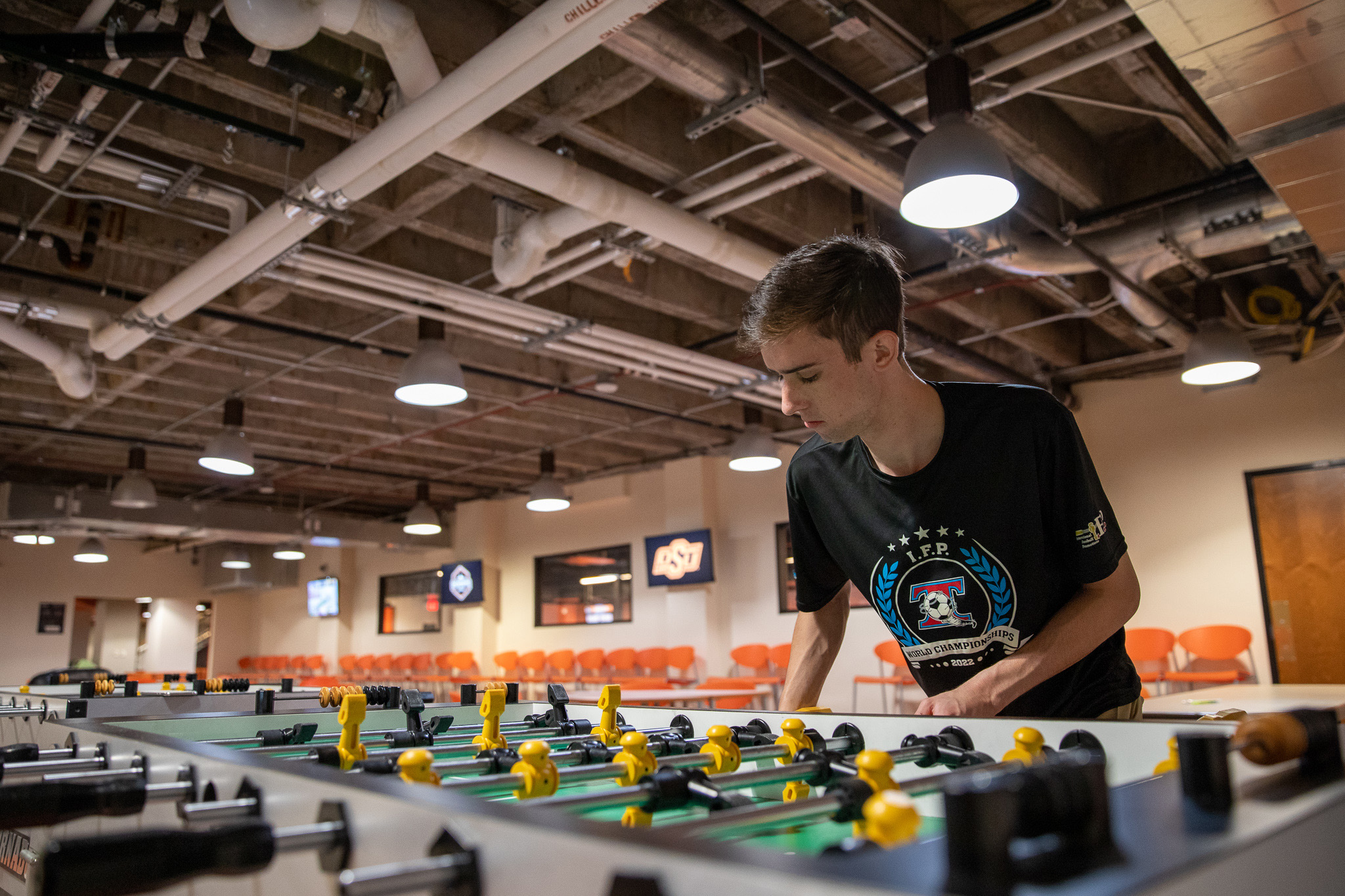 When Rector is not playing foosball, going to class or performing in Funk N Beers, he is also a graduate assistant for the office of Fraternity and Sorority Affairs on campus where he works on the Greek shows and advises for Follies, Varsity Review and Spring Sing.
Rector certainly didn't expect for a fun night out with friends at his favorite college bar to become the germination of his newfound talent and amateur career in foosball, but that is how the poles roll.
"The oldest person at the World Championship was 73," Rector said. "As long as I can keep playing and as long as my schedule permits it, I would love to just continue to play, continue to work and continue to learn and improve."