MBA students win at Love's Entrepreneur's Cup
Thursday, May 5, 2022
Media Contact: Terry Tush | Director, Marketing and Communications | 405-744-2703 | terry.tush@okstate.edu
A team of two Oklahoma State University MBA students were among the big winners at the 2022 Love's Entrepreneur's Cup, winning first place and $23,000 in prize money.
The Titan Charts team of Rachel Brown, MBA international marketing, and Patrick Bruce, MBA, won first place and $20,000 in the High Growth division for graduate students of the statewide collegiate business plan competition.
Brown also won $1,000 in the 90-second Pitch Graduate Division, and Titan Charts was named the winner of another $1,000 for the Student Generated Interview award along with an additional $1,000 for being a finalist in the Graduate Division.
"The tenacity, drive and commitment of the Titan Charts student team never ceases to amaze me," said David Thomison, advisor for the team, associate professor of practice and George Kaiser Family Foundation Endowed Chair in Entrepreneurship at OSU's Spears School of Business.
"The team has logged hundreds of hours of intense customer discovery, preliminary product development and startup business planning. These cumulative incremental hands-on experiential learning experiences plus competition feedback has greatly enhanced their business education and preparation to launch this advanced tech high growth business post-graduation. Their future is bright."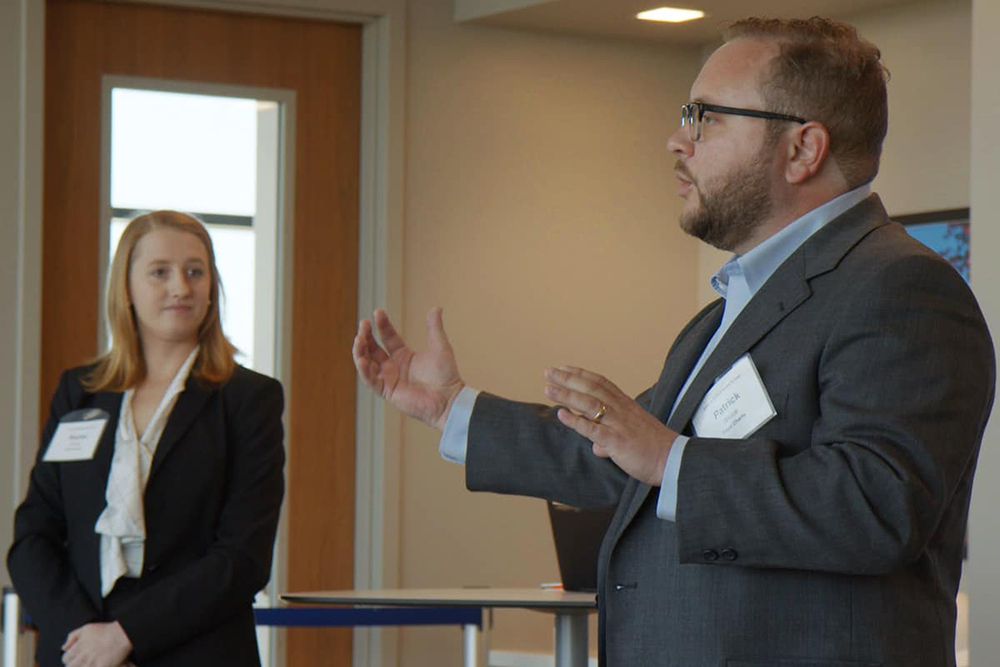 Nearly 40 teams of college students from across Oklahoma competed for $158,000 in cash prizes and scholarships. The competition began in February with the interview process involving industry experts, followed by judging of written business plans in March and two days of oral presentations in April before panels of judges in Oklahoma City.
Brown and Bruce traveled to Oklahoma City on April 15 to compete against six other graduate teams from across the state, and winners were announced April 28.
"I've participated in well over a dozen business competition during my time at OSU," Brown said. "It's so exciting to have my biggest win right before graduation."
Titan Charts helps specialty medical clinics increase revenue through netting new patients, enhance labor productivity through automation and improve the patient care experience through faster onboarding and treatment. The technology accomplishes this by automating the patient referral process. The group's innovative AI software solution takes minutes to process a referral, a huge improvement to the current lengthy manual process.
Brown and Bruce have also competed in multiple other national and global collegiate business plan competitions. The Titan Charts team advanced to the Princeton University TigerLaunch Top 14 and the University of Oregon New Ventures Championship Top 16, and also won the OSU university-wide Riata Business Plan (High Tech/Big City Division).
The Love's Entrepreneur's Cup is the place for aspiring entrepreneurs to kick-start their journey. Students from any college campus in Oklahoma are invited to write a business plan to enter in the competition that simulates the real-world process of researching a market, formulating financial projections, writing a business plan and pitching the opportunity to potential investors.
In its 18-year history, nearly 2,600 college students have taken the Love's Cup challenge, producing more than 780 innovative ideas.
The competition, sponsored by Love's Travel Stops & Country Stores, is managed by i2E, a nationally recognized, private, not-for-profit organization founded in 1998 that focuses on growing innovative small businesses in Oklahoma. Its mission is investing in entrepreneurs to build successful high-growth companies in Oklahoma and making a positive impact on the state's economy.
To learn more about Titan Charts, visit the website: www.titancharts.com/.
Visit the Love's Cup website for more information about i2E and the Love's Cup.