From Haiti to Stillwater, Adolphe forging path to success
Friday, September 29, 2023
Media Contact: Stephen Howard | Manager of Communications | 405-744-4363 | stephen.howard@okstate.edu
Benjy Adolphe never thought he'd find himself speaking at a conference in front of hundreds of tech executives and professionals when he came to the U.S. from Haiti at 19 years old to pursue a degree at the Spears School of Business. The son of a minister partnering with a church in Stillwater, he always knew he wanted to go to Oklahoma State University. What he didn't know was just how much coming here would change the direction of his life.
Speaking to hundreds of technology professionals didn't just happen out of nowhere, it was a direct result of Adolphe's dedication to learning and professional and personal growth. The Management Science and Information Systems (MSIS) major found himself needing advice and direction for his career and headed to the Eastin Center for Career Readiness. He utilized the Eastin Center well, meeting with them for resume reviews, mock interviews and attending their career preparation events.
"I usually tend to like to do things by myself, but I took my chances and made an appointment," Adolphe said. "I found Mike Stump and Holly Bergbower. They were exceptional at resume review and resume building. I took their advice to heart, put it into practice, and within a semester, I ended up finding more things to put on my resume than necessary with their guidance."
Through connecting with the Eastin Center's career advisors he met Robin Darmon, the director of the center. After meeting with Adolphe and recognizing his passion and interest in professional growth, she connected him to The Technology and Services Industry Association (TSIA), an organization representing 40,000 tech firms globally, with members including Microsoft, Google and Amazon Web Services.
He was soon able to take part in the TSIA Career Pathways program, which allows a select group of students to be a part of a semester-long cohort that refines their job seeking skills, provides them with mentorship from industry experts and offers participants an all-expenses paid trip to the annual TSIA Conference in Las Vegas.
It's not often that students get to meet with such high-level professionals in their fields. It was an amazing opportunity for Adolphe to network with C-level executives and technology experts. He found that they were more than willing to connect and give advice to him and the other students in attendance.
Adolphe was one of two students asked to speak at the conference to TSIA members. The organization's members were highly complementary of Adolphe's public speaking skills and ability to engage the audience. Adolphe did an exceptional job and has been invited to return to their annual conference this October. He will speak with the attending members about his experience from the previous year and about how beneficial the Career Pathways program is to students.
This experience was immensely valuable for Adolphe, serving as a reminder of the importance of personal relationships and connecting with others. He finds that the best way to do this is to show others your passion for the things you care about.
Darmon said, "Benjy is incredibly hard-working and yet willing to support others as well. He's involved in many initiatives in academics and outside of the University. He's a student who authentically cares. He's a natural leader. He's just so kind, dependable and smart as a whip! I look forward to seeing what Benjy will accomplish in his professional and personal life."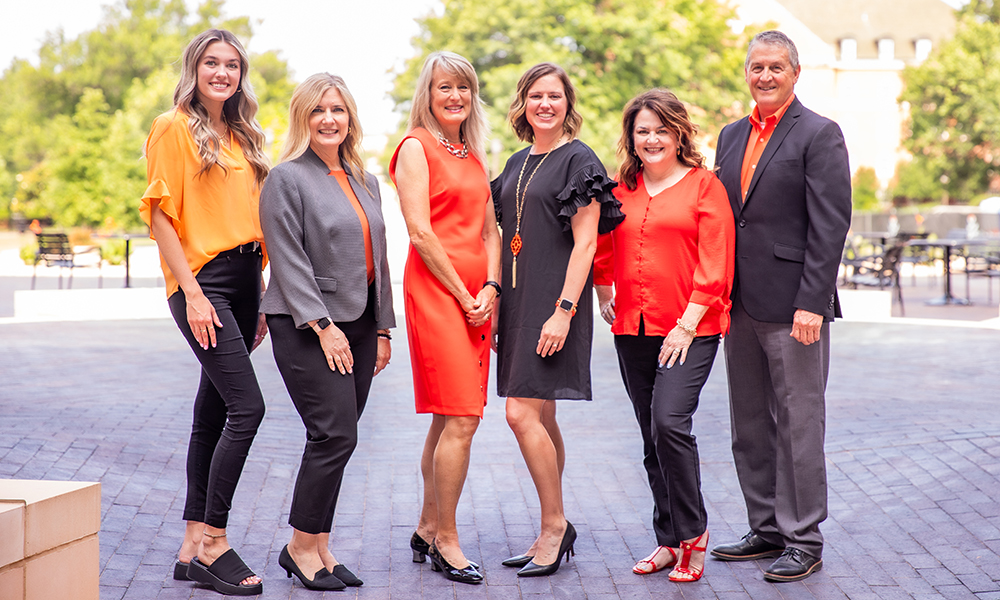 Adolphe credits OSU with changing his life for the better, providing him with opportunities he'd never known were available.
"Coming to OSU was one of the best things that ever happened to me," he said. "I explore certain programs at other schools and talk to other international students. They don't get the support system that I get out of the Eastin Center. I absolutely love it here."
Moving to the U.S. was not an easy transition for Adolphe. Although he had been taught English from an early age and did not have trouble communicating, the cultural differences here were something to get used to, especially with so many different influences here. Adolphe adapted well and made new friends while practicing new languages.
Being from Haiti, his first language is Haitian Creole, and due to the school system in Haiti, he was taught French. Additionally, his father is an English teacher, so Adolphe was trilingual coming to the U.S. He is now also fluent in Spanish and is beginning to teach himself Arabic. Naturally, he has already made friends who speak both languages and is enjoying learning their language and culture.
Adolphe appreciates being able to speak multiple languages as it allows him to be friends with many different people. He finds it easier to connect with others of diverse backgrounds as he understands cultural differences. Adolphe has accommodated to the culture of OSU and finds himself comfortable. He belongs here.
Adolphe, currently a senior, has decided to stay at OSU to obtain his Master's in Business Analytics and Data Science (MS BAnDS). He now works for the Eastin Center providing the same help to students that he received only a few years ago.
Adolphe enjoys working for the Eastin Center and at Spears Business because he connects with and provides direction to students just like himself. He feels that the community at Spears Business and around campus is genuine, kind and caring. The people of OSU are what have been the biggest positive influence for Adolphe.
Wherever Adolphe finds himself, he has been set up for success by seeking out the resources and people here that have poured into him.
"My goal is to successfully work somewhere and make OSU proud," he said. "I don't know what will happen after I graduate, but I'm looking forward to it."
Kim Strom, MSIS assistant department head and professor said, "From the moment Benjy stepped into my office seeking guidance on finding a mentor for job shadowing, it was evident that he possessed the makings of a future success story. His unwavering passion for seeking opportunities to learn from others and refine his technical and professional abilities is truly commendable. I am confident that a bright future awaits him."
Story By: Avery Russell | avery.russell@okstate.edu