Cornell's 15-year journey from the wild blue yonder to the graduation stage
Friday, May 5, 2023
Media Contact: Stephen Howard | Manager of Communications | 405-744-4363 | stephen.howard@okstate.edu
Jennifer Cornell had every intention of graduating from college in four years when she first enrolled in 2008. Life, family and a deployment with the Air Force may have delayed things a bit, but on Saturday, May 13, Cornell will walk across the stage in Gallagher-Iba Arena and earn the degree she's sought for nearly 15 years.
"I have two kids and I didn't cry when they were born. I don't cry a whole lot, but I'm going to cry for sure during that graduation," said Cornell with a laugh. "I have definitely been dreaming about walking across that stage for the last year and a half."
Her two kids, 12-year-old Eli and 11-year-old Jonah, will join their dad, Jennifer's husband, Eric, in what might be the rowdiest cheering section in Stillwater to watch Jennifer, 32, finally bring home her management information systems (MIS) degree from Oklahoma State University's Spears School of Business.
A native of tiny Meno, Oklahoma, Jennifer started her college journey right out of high school at Northern Oklahoma College in 2008. She married Eric later that year and Eli and Jonah followed in short order, so Jennifer decided to take a couple of years off school to raise her young family.
When it came time to return to school, Jennifer was looking for online options and DeVry University made sense for her at first. She soon transferred to OSU in 2015 and met Spears Business academic advisor Angela Weiser, who listened to her story and knew exactly what route she should take. Weiser steered Cornell toward MIS, which helps students discover how to solve business problems using technology solutions in today's information-driven economy.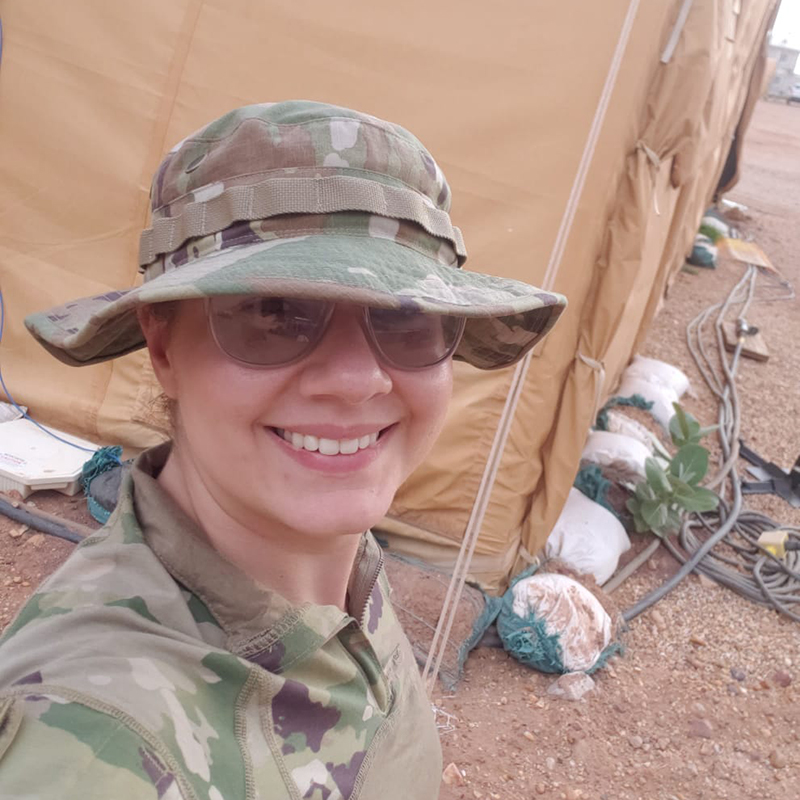 "I very much have enjoyed the project management side and working with people and technology, and all those cogs and wheels moving together," said Cornell, acknowledging Weiser's nudge. "It interests me a lot, and it's very fulfilling for me."
Weiser works exclusively with online students, many of whom are like Cornell and take non-traditional routes during their college journey. Weiser earned her master's degree while working full time with a family, so she understands what her students are up against.
"I not only talked it, but I walked it," she said.
The two spoke a couple of times per semester to keep Cornell on track through life's twists and turns. Over the last seven years, they've bonded over chats about motherhood and their shared goal of getting Cornell to the graduation stage.
That goal faced its toughest challenge when Cornell answered the call of the military. As a child, she served in the Air Force's Civil Air Patrol, an aviation-focused service program for kids between the ages of 12-21, and that whetted her appetite for a career in the armed services as an adult. Cornell joined the Air Force Reserves in 2019 and was given a role as a cyber surety technician in a combat communications squadron — the perfect gig for an MIS student.
However, her enlistment meant more time away from school. Cornell took a semester off for basic training, and immediately upon returning to OSU she was notified of her first deployment. She had to hit pause on her academics once again, this time for a year.
"I always knew I was going to go to college, I just didn't know how much life was going to happen through that journey," Cornell said. "But even through my breaks, I just knew I was going to go back. I need to finish. I want that degree, and I want that for myself."
Cornell did come back, time and time again. Thanks to her perseverance she has earned her degree after all these years. The military life suits her, and she plans on pursuing a commission to become an officer in the Air Force Reserves on top of her civilian job as an IT technician for a Department of Defense contractor in Enid, Oklahoma.
Cornell isn't ready to pat herself on the back, not yet. She's going to save that for graduation day with her family. But Weiser couldn't be more proud. She sees Cornell's story as inspiration for others across Oklahoma who don't think they can come back and finish their degree.
"Anybody can do this — you just need to want to do it," Weiser said. "We will find a way to help you graduate. I love puzzles, so if there's a way I can help you figure out how to get done, I'm going to figure that out for you."