Stephen Dubner and the Future of Work
Tuesday, September 5, 2023
Media Contact: Stephen Howard | Manager of Communications | 405-744-4363 | stephen.howard@okstate.edu
Best-selling author and podcaster Stephen Dubner built a media empire by diving inside the hidden economics behind everyday things, and on Aug. 31 he was the keynote speaker at the inaugural Future of Work Summit hosted by the Spears School of Business Center for the Future of Work.
Dubner joined forces with economist Steven Levitt in 2005 to write "Freakonomics," which went on to sell 4 million copies in 35 languages across the world. That success inspired the follow-up book, "Super Freakonomics," as well as "Think Like a Freak" and "When to Rob a Bank."
In 2010, the same year "Freakonomics: The Movie" was released, Dubner launched "Freakonomics Radio," which became and remains one of the most popular podcasts in the world. It's still the flagship show of the Freakonomics Radio Network, which also includes the popular podcasts "No Stupid Questions," "People I Mostly Admire," "The Economics of Everyday Things" and more.
Spears Business caught up with Dubner during his stay in Oklahoma, which included a round of golf at Karsten Creek Golf Club prior to his thought-provoking talk, where he tackled the latest trends in the modern workplace and the hidden costs behind them.
Spears Business: Let's start with the hardest-hitting question, and it's the one every Oklahoma State fan wants to know. How was your round at Karsten Creek, and what did you think of the course? We heard that you played with former PGA Tour pro and Cowboy Golf All-American Chris Tidland — a Spears Business alum — associate professor of professional practice Dr. Evan Davis and Dr. Rick Wilson, professor and MSIS department head.
Stephen Dubner: My round at Karsten Creek was not bad. I had really good company. I've been playing golf for about 11 or 12 years now, and I went from terrible to decent. I thought I'd never break 80, and then I did a couple of years ago. I do it now and again but I'm not consistently under 80, so that's the next goal.
Today I was really hitting the ball straight. I had a couple of birdies, a bunch of pars, and I loved the course. Then I got to hang out. We ate there. I got to meet the current team. I'm a big fan of Viktor Hovland already, as well as Rickie Fowler. I got to clean up in the locker room and see all the trophies. So honestly, it was an amazing experience.
I'm involved a little bit with the Columbia golf team, and I love those guys. But this was a little bit of a different level. Just to be on this course where so many of these great players have honed their game, it was a thrill. And then also, I'm one of the last people to see it before it gets remodeled, so that was kind of cool too.
SB: The timing of the Future of Work Summit was perfect as it relates to your podcast because last week you started a series about artificial intelligence (AI). Those podcasts talk a lot about its human-like qualities and the fear that some people have for this technology. Do you think AI can be a differentiator for companies and industries that are early adopters of AI?
SD: I think the big question about AI is, is this really a different category of technology than anything we've encountered before? A lot of people think yes, but the odds say no. History says no. History shows us that just about every technology, when it's new, is celebrated by the inventors and feared by the masses. There's always backlash. There's often a bunch of false starts. But the fact is that we've been around AI for 20 or 30 years now. We just don't really think about it so much.
I think what's changed everything in some people's minds is the large language model version of AI because it feels a little bit less in the background and it feels more human. I think focusing on that too much is a mistake because that is really a narrow version of what AI can be. ChatGPT is such a narrow application.
I think AI will be a game changer in the way that other technologies have been game changers. Like, electricity was a pretty big deal. We don't think about it at all now, if ever. But read the history. Electricity made us capable of doing many, many things that we now take for granted and that we absolutely couldn't do before. So, I think it will be a really substantial realignment in terms of comparative advantage among those who do it and those who don't.
It's just better technology, but I think that people shouldn't flip out if they're not first to the game. We all get better at using tools as we go, and AI is a great tool. That's the way I prefer to think about it personally - it's a great tool and we'll all get better at using it.
SB: Your talk today focused on thinking like a freak. Why do you think that resonates so much with people, especially with a group of business leaders like this?
SD: I think what I'm about to say sounds so obvious, but ideas are very powerful. There's a lot of leverage in ideas, but I don't think we do enough to incentivize people to come up with ideas. That's pretty much what my job is, to look around the world, read a lot, talk to people. I look at 100 ideas and 99 are not good. But then I find one that I like and it's worth developing.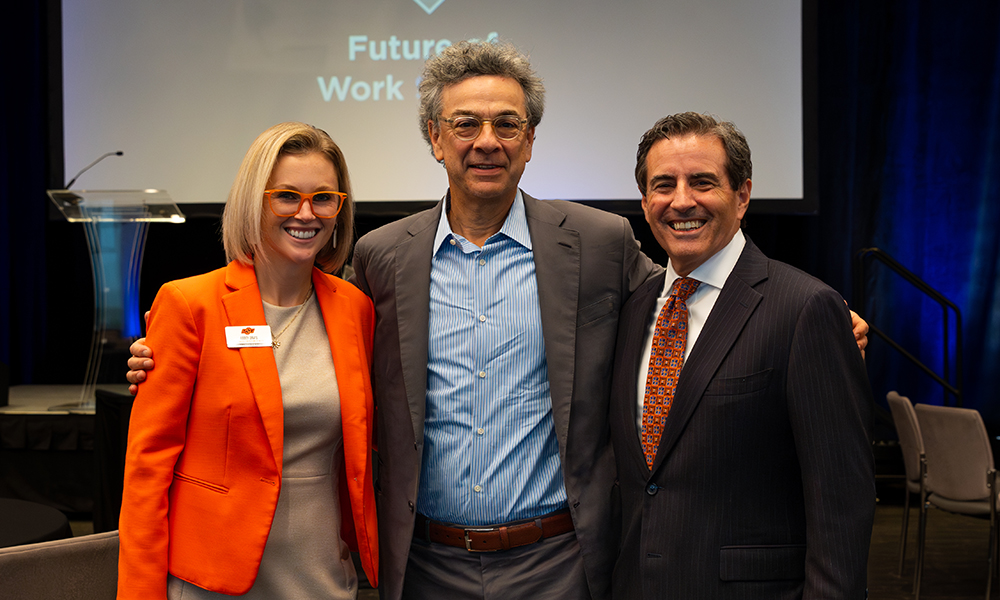 I'll be honest with you, I think my advantage is that I don't have a job [as he laughs]. I do have a job, but I don't have a boss. I don't have a corporate structure around me. And I think one of the things that business schools can do better, and that corporations and firms can do better, is to set themselves up to not just talk about thinking outside the box, but really let people do it.
When I grew up, I was a math and science kid, but I was also a music kid and a sports kid. And with music and sports, there's a lot of creativity, there's a lot of feel. That's a thrilling way to lead a life if you can genuinely have time to have ideas, develop ideas, to try and fail. Whereas a lot of firms and institutions, including academia, there's an accepted route. I think a lot of people talk about encouraging people to think outside the box, but they don't really facilitate it.
So, I think that if I were in charge of the world and wanted firms, institutions and academia to be a little bit more productive and creative and innovative, I might just require that everybody have two hours a week where they do nothing but think. Maybe you take a walk. Walking is actually great for thinking physiologically. There's been a lot of work done that shows when you're out for a walk your brain is doing things that are really nicely in sync with coming up with ideas because you're mapping things, you're making decisions and it seems to trigger innovative thought. A lot of the greatest thinkers in history have been big walkers. Of course, that's because they didn't have cars to drive in.
SB: OSU's Center for the Future of Work is an intentional effort to work alongside the business and industrial community to maximize potential and prepare organizations and people to meet the demands of this fast-paced world. How important do you think these types of organizations are for a place like Oklahoma?
SD: The thing that I like about it is when I look at the vast majority of research that's done within the university system, most of it doesn't get back to the public. I think that's a shame. It's also a bit of a rip off because we're supporting it with our taxes. So, to me, one of the best uses of academic research is to have these kind of collaborations between a university community and a business community or a governance community. Because one thing that academics do is they have ideas and they research the living daylights out of them and they come up with insights that then often don't go anywhere. Often, they only publish in their journals, which are not read by the public. So, bringing that deep academic research knowledge to bear in a development system or protocol I think is really, really valuable. I think it's smart.
SB: You have published several books, you have a thriving podcast network and you still find time to have a family life and a pretty good golf game. How do you juggle these things and still think ahead?
SD: There are a lot of things I don't do that everybody else does. I haven't been to the movie theater in about eight years. I don't watch much TV or movies. I spend very little time on social media. So right there I'm probably gaining 10, 12 to 15 hours a week. I could read a book with that time. I happen to not care about a lot of stuff that other people care about a lot. So, it's not hard. It's not a sacrifice for me. I just follow the stuff that I'm interested in, and I would say that's what everybody should do.
Steve Levitt, my partner on Freakonomics, he's taught me a lot. One of the best lessons was if you can turn something you love into your work, it's like a racket. And every week with Freak Radio, every episode that we do, the reason we're doing it is because it's something that I was interested in and I wanted to find out more about. That means I get to go find amazingly smart people to talk to about it and then learn about it myself and then write it. Writing is a great form of learning, too. In order to write it, you have to really learn it. For me, it's very natural and easy.