The business of brews with Iron Monk
Wednesday, March 22, 2023
Media Contact: Stephen Howard | Manager of Communications | 405-744-4363 | stephen.howard@okstate.edu
In 2014, Jerod Millirons and Dave Monks decided to combine their love of business and beer to create Stillwater's first brewery — Iron Monk. The two friends are less than a decade into the project, but Iron Monk has become a Stillwater staple, with dozens of craft beers and a vibrant tap room.
Iron Monk's latest product is their most ambitious yet, and it has the ability to take their business to the next level. Millirons, a Spears MBA graduate, and Monks, the brew master, struck a deal with Oklahoma State to create the official craft beer of the university — 1890 Original. Spears Business caught up with Millirons to find out all about it.
Q: How did the idea for Iron Monk's partnership with Oklahoma State come about?
Millirons: As far as being able to use Pistol Pete on the can and join forces with OSU, that's something we've wanted to do since day one. Fortunately, in the last year we've gotten to do that. We've got what's called the 1890 Original, which is a beer that we brew just for OSU and it's sold across the state. OSU approached about 10 different breweries across Oklahoma, and we were fortunate to be the brewery that was picked. And it's going really well. 1890 Original is only in cans right now, but soon we should have tap handles ready so that we can get kegs into the bars and restaurants all over the state.
We were the first in the Big 12 to build a partnership like this with the university. So, it was really exciting. It was fun working with everybody at OSU to get this done. I think we nailed it on the can, but obviously I'm a little partial.
Q: The business side of brewing can be a complicated process, can't it?
Millirons: Yeah, absolutely. I tell people it doesn't really matter if it's a brewery or if you own a cupcake shop — there's a lot to it. The buck stops with the owners, and there are always a lot of moving parts. With a brewery, there is the science side of it, the actual brewing, but there's also the behind the scenes, the accounting that any business has. We're so fortunate, we have great employees.
Q: What is the process for getting your product into stores and restaurants?
Millirons: There's a little bit of push and pull getting into these places. There's only so much shelf space. There are only so many tap handles in a restaurant. So, you've got to obviously make a product that people want or you're not going to get in there. Fortunately, we've done a pretty good job with that. And fortunately, people have a very strong tie to Stillwater and so they can kind of take Stillwater with them, in a way. People can take a piece of Stillwater with them back to Oklahoma City and Tulsa and different parts of the state. They can pick up our product and it feels like home. We're right here in Stillwater. Kylie Maples is our head of sales. She's amazing. She's out on the road almost every day trying to get bars and restaurants to learn about our products. Right now, our head brewer, Trenton Inselman, was just down in Atoka, Oklahoma. Reba McEntire is opening a new restaurant, and so we're hopefully going to get the 1890 in there and maybe even brew a special beer.
Q: How much does Stillwater and OSU mean to the Iron Monk team?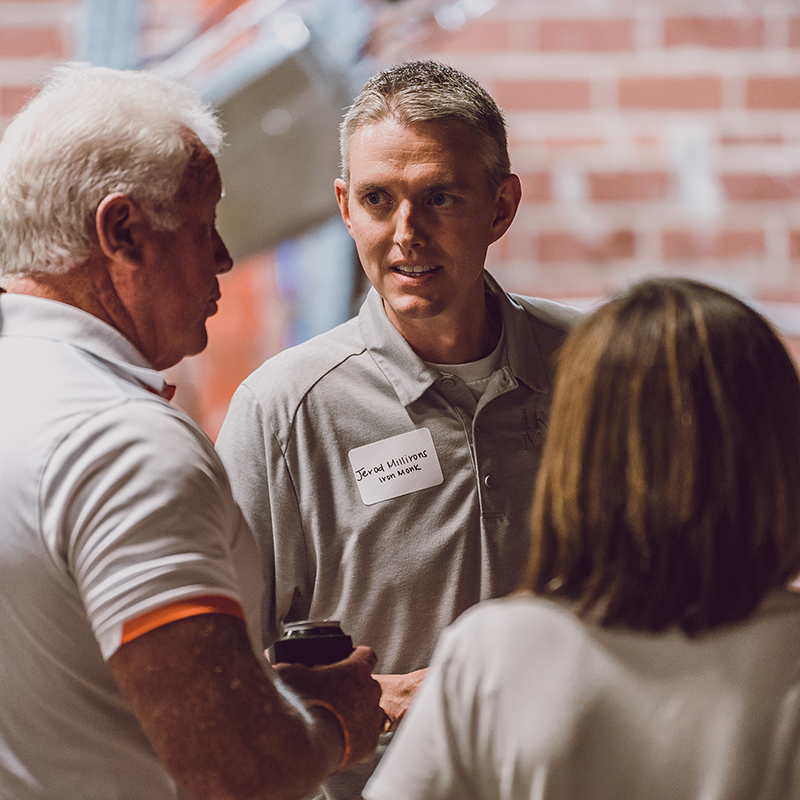 Millirons: This place is just who we are. I'm an OSU grad and everybody that works at Iron Monk has ties to OSU. My business partner, he didn't graduate from OSU, but he did a lot of research at OSU when he was working on his Ph.D. Every bartender is either an OSU grad or student. Our head brewer, Trenton, he is diehard OSU. We talk about bleeding orange, that guy told me he's missed one football game in 17 years. He grew up in Morrison, so he's local.
Q: Tell us about the craft brew community. Have they been supportive in helping you get up and running?
Millirons: For sure. It actually caught us off guard. When Dave and I first started doing homework on the craft brewing world, we figured out really quickly that there were only four or five breweries in the whole state. We didn't think they were going to want to help us. We thought they would see us as competition, and that if we had any questions they might even point us in the wrong direction. But it was the exact opposite. They couldn't have been more helpful. That even goes for the breweries in Texas. Every brewery we went to was nothing short of helpful.
The idea is that a rising tide lifts all boats. The big guys, the Millers, the Coors and the Budweisers, they still own the vast majority of market share. But there's this huge market out there that's still available for craft breweries. The way we all see it, if we can get people to start trying this other style, this craft stuff that's brewed locally, that they're going to enjoy, then they're going to buy from other craft breweries as well. Most people aren't loyal to one craft brewery. They're loyal to craft breweries in general. When you're on vacation or when you're out of town, you want to try other local stuff. It was very pleasant to figure that out from the beginning, that these guys are here to help us.
Q: How did your Spears Business MBA help you in this process?
Millirons: My undergrad was biology. So, one of the biggest things I learned from my MBA was how to present a plan. We didn't have to present in biology class. We didn't have to network. We didn't have to really communicate with people as much. When I first got into the MBA program, believe it or not, I was scared to death. In my first few classes, my professors were talking about all these presentations, and it terrified me. Believe it or not, that's what I took away probably more than anything from my MBA is just being able to communicate, network, speak in front of people and build relationships. The other things, the marketing, the accounting, the finance aspect were important as well. I did take a lot away from those courses. But I would say the number one thing would be communication, networking and those kind of things.
Q: Where did you develop your passion for this?
Millirons: My passion was never biology. Not even science. I love business. I'm just geared that way. My business partner, his passion is more the beer, to be completely honest. My passion isn't the beer as much as it is the business. I do love the beer, and I'm glad I don't make cupcakes. The brewing industry is so fun. But, the business side of it is what I really love. Tying that in with the craft beer industry — I've never seen anything like it. It's just like I said, we don't see each other as competitors, and we get to go to all these events and beer festivals and we're always making new friends.