Spears Business hosts tribal leaders for workforce, economic development summit
Thursday, March 2, 2023
Media Contact: Terry Tush | Director, Marketing and Communications | 405-744-2703 | terry.tush@okstate.edu
Oklahoma State University's Spears School of Business and the Oklahoma Indian Gaming Association hosted nearly 70 tribal leaders for a workforce and economic development Tribal Summit on Feb. 28 on the Stillwater campus.
The summit's purpose was for tribal leaders and tribal casino leaders to discuss how Spears Business is able to provide assistance in workforce development and enhancing the state's economy. There were 17 tribes represented and 29 different entities from 26 cities in Oklahoma.
Oklahoma Indian Gaming Association chairman Matt Morgan (shown in the photo on the right) helped recruit tribal leaders to attend the summit, and he was impressed with what was accomplished in one day.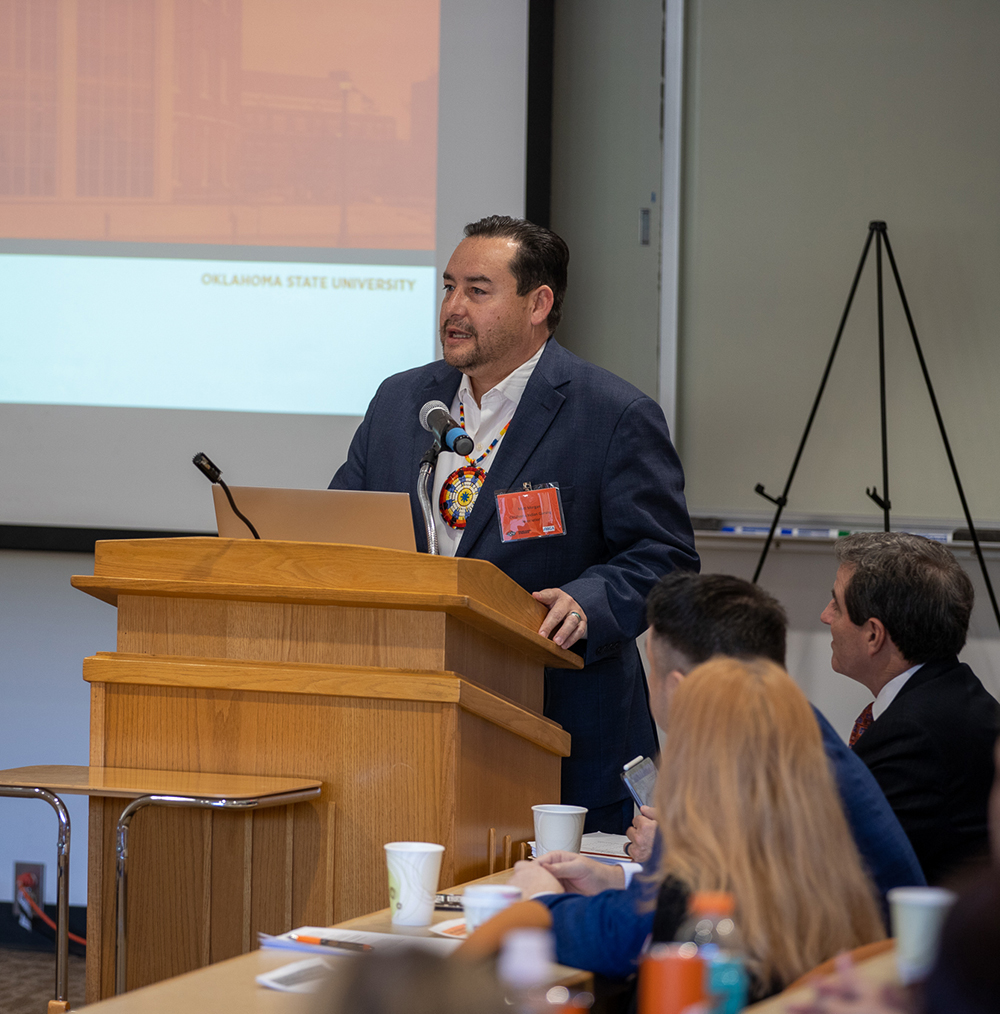 "We believe the Spears School can assist our industry in providing degrees, credit and non-credit certificates, leadership programming, marketing and data analytics assistance, hotel and service quality education, finance and accounting assistance among other topic areas that will help us to retain and further develop career pathways for our employees and citizens," he said.
The day was facilitated by Chris Province, Player Performance Group from Tulsa, who serves in a management consultant role to many tribes in Oklahoma and out-of-state. Participants in the summit took part in group discussions, including economic development, professional development, and credit courses and degrees. Later, attendees prioritized the items and created a list of action items. Spears Business faculty and staff served as roundtable facilitators to the sessions.
"We are excited to enhance our partnership with the tribal governments in Oklahoma," said Dr. Ken Eastman, dean of Spears Business. "The tribal nations are a significant cultural and economic force in our state. We are honored to work with them expand the educational and economic opportunities of their tribal citizens and businesses."
Next steps involve Spears Business faculty and staff working with the tribes to improve the Native American lives in Oklahoma and assist in further development of their businesses. Tribal leaders agree that discussions with Spears Business need to continue.
Dr. Brij Thapa, head of OSU's School of Hospitality and Tourism Management, is excited about the possibilities for partnership with the tribes.
"We have been at the forefront in educating students that have become successful leaders, decision-makers and entrepreneurs to lead at the forefront of this fast-growing and rapidly changing national and global industry," Thapa said. "We provide a high-caliber, business-based curriculum to prepare for careers in multiple sectors, some of which are directly relevant for tribal communities and pertain to hotel, resort, casino, food and beverage, events, and tourism. Furthermore, we are also interested in capacity development and upskilling of current employees in the hospitality and gaming enterprises."