CA&S Students Honored as Seniors of Significance
Wednesday, November 22, 2006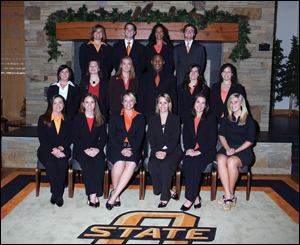 Stillwater, Okla. – Thirty-nine OSU seniors were selected as Seniors of Significance for the class of 2006-2007. A public reception honoring the Seniors of Significance was held Nov. 16 in the Click Family Alumni Hall at the ConocoPhillips OSU Alumni Association.
The Seniors of Significance Award recognizes students who have excelled in scholarship, leadership and service to campus and community and have brought distinction to OSU. This group is approximately 1 percent of the 2006-2007 graduating class and represents the breadth of the OSU student experience.
Seventeen students were chosen from the College of Arts and Sciences.
Becca Baker is a broadcast journalism and news editorial major from Tulsa. For two years, Baker was a live reporter for the OSU Homecoming parade broadcast. Her work has been published in The Daily O'Collegian as well as the book, "Oklahoma State Portraits: Celebrating the Centennial of Oklahoma Statehood." Baker plans to travel to Africa with other students to help children and families, and she is heading a project that will get OSU broadcast journalism students' work aired to a potential 2 million viewers nationwide.
Allison Ford, an international business and management and Spanish major from Ponca City, served as president and vice president of the Business Student Council. She has also been on the Student Government Association Speakers Board, and she is vice president of the Blue Key Honor Society. Ford is a member of Chi Omega Sorority where she has served as vice president and personnel executive.
Evan Fitz, an English and film major from Lawton, is a member of the Mortar Board National Honor Society, as well as the Student Alumni Board. He has been on Homecoming Steering and was the 2005 OSU Homecoming King.
Ashleigh Gibson, a public relations major from Lawton, a OSU Black Alumni leader and scholar, and she was chosen as one of the Top Four Junior Greek Women. She is a recruitment counselor and the Tapping Initiation Chairwoman for the Mortar Board National Honor Society.
Meghan Gilliland, a biological sciences major from Oklahoma City, is a member of Blue Key Honor Fraternity and Arts and Sciences Student Council. She has been recruitment chairman, and is standards board member, transition officer and assistant new membership coordinator for her sorority. Gilliland worked at the Mercy Women's Center registering patients for the past three summers.
Kara R. Hahn, a public relations major from Andale, Kan., was Assistant Executive Director for Orange Peel, as well as a Camp Cowboy Director. Hahn was a 2006 Homecoming Executive where she directed the progress of the first-ever Homecoming Commemorative Publication.
Sarah Haynes, a human resources management and psychology major from McLoud, has been listed as an "honorable mention" for the national Morris Udall Scholarship, and was selected as an OSU Truman nominee. She received numerous honors including 27 scholarships, two Wentz Research Awards and an internship at the National Science Foundation in Washington, D.C. Haynes will receive dual honors degrees when she graduates.
Candice Nicole "Nikki" Howell, a psychology major from Nowata and Edmond, is president of the Psychology Club and was a Rhodes Scholar Nominee. She is Psi Chi president, and vice president internal of the Arts and Sciences Student Council.
Jennifer Nicole Johnson, a biological science major from Edmond, is a President's Posse member and the Phi Beta Phi Convention National Legislative Committee Member. She served as Executive Officer for Phi Beta Phi Sorority and was a Travel Camp Specialist and Coordinator for The League for People with Disabilities in Baltimore, Md.
Holly Licht, a political science major from College Station, Texas, was 2005-2006 president of the Young Democrats and one of OSU's nominees for the Truman Scholarship. She initiated OSU participation with the Student Conference of National Affairs and participated in "Tunisia: Past and Present" cultural exchange program.
Clayton Nelson, a physiology major from Oklahoma City, was the 2006 Homecoming King, and a member and treasurer of Blue Key Honor Society. He's also involved with the Student Alumni Board and vice president of Alpha Epsilon Delta Pre-Medicine Honor Society.
Amy Noblett, a risk management finance and Spanish major from Manhattan, Kan., is a member of Mortar Board and FMA where she served as treasurer and was a representative to Chicago for a FMA conference. She received the Bailey Family Memorial Scholarship that awarded her a full-tuition and expenses scholarship to study abroad in Madrid, Spain. Noblett also received the College Honors Award in Business Administration for her honors thesis, "The Art of Investment – The Diversification Benefits of Art in a Portfolio."
Lauren A. Simmons, a history and pre-law major from Laguna Niguel, Calif., is captain of the OSU Women's Tennis Team and a 2006 Intercollegiate Tennis Association Academic All-American. She is co-president of the Student-Athlete Advisory Committee and vice president of Pi Alpha Nu. On April 11, she was chosen as the Big X11 Women's Tennis Player of the Week.
Darnell Smith, an economics major from San Antonio, Texas, was a member of the OSU football team and made it to three consecutive bowl games during his OSU career. He was part of the Student-Athlete Advisory Committee and was a three-time first-team Academic All-Big 12 selection and named to the Big 12 Commissioner's Honor Roll eight times, the OSU President's Honor Roll two times and the Dean's Honor Roll five times. He is a four-time OSU Academic Achievement Award winner and a two-time Arthur Ashe award recipient. A highlight of his OSU experience is meeting Barry Sanders and his girlfriend.
Amber Stangl, an American studies major with a history minor, from Clinton, was the 2006 Camp Cowboy Staffing Director and is a Student Alumni Board Executive member, serving as the Leadership Development Executive. She helped start two student organizations on campus, College Heroes and the American Studies Student Organization. She is also an Arts and Sciences Student Council vice president external.
Natalie Trent, an applied physics major from Spiro, was a Cowboy Marching Band member for two years and President of Alpha Epsilon Delta: Pre-Medicine Honor Society. She was a Niblack Research Scholar in 2004 and a Bailey Study Abroad Scholar in 2006.
Latasha Wilson, a political science major from Stillwater, planned and coordinated Earth Week and Earth Festival on the OSU campus for the past two years. She contributed research to The Oklahoma Women's Almanac and attended Free the Planet's Project LEAD at Georgetown University. Wilson attended the National Education for Women program in Norman.