OSU MBA Scholarship boosts students and state businesses
Tuesday, December 12, 2006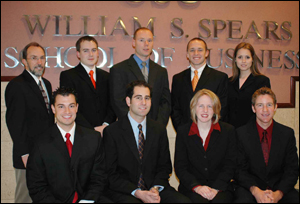 By Clayton Bellamy
STILLWATER, Okla. ­- Oklahoma State University MBA students are helping Oklahoma businesses grow through a scholarship program that allows students to apply what they're learning in the classroom and gain real-world experience at the same time.
The MBA Scholars Program has joined nine students with three Oklahoma companies this school year under the supervision of Dr. Gary Frankwick, associate professor in the Department of Marketing at the William S. Spears School of Business.
Students – hand-picked from OSU's MBA program - receive scholarships while working on yearlong projects for the companies, which this year are Fruity Delights LLC of Stillwater, and Martin Bionics of Oklahoma City, and Red's Beds LLC of Duncan.
Participating students are Elizabeth Dru Barker, Stillwater; Andrew Dayton, Medford; Cash Maitlen, Cushing; Mary Nemcok, Blanchard; Nathan Price, Tulsa; Matt Quade, Edmond; Matt Scovil, Tulsa; Abigail Shurigar, Kenesaw, Neb.; and Michael Tapley, Tulsa.
"It provides valuable, in-depth experience with real company situations and objectives not provided in a classroom setting," said Maitlen, who also participated in the program during its inaugural year last year.
Barker, Shurigar, and Tapley are performing market research and developing a marketing plan for Fruity Delights, a startup drink company. Quade, Price and Scovil are writing a business plan to help Martin Bionics grow as it develops prosthetic and bionic appendages. For Red's Beds, Maitlen, Nemcok and Dayton are working on a marketing plan for the company's folding, locking truck bed covers.
"I think the program is very beneficial because it gives students the opportunity to apply concepts learned in the classroom to real world situations," said Shurigar, who also participated last year. "I have gained a deeper understanding of what it takes to plan and conduct focus groups. I have also had the opportunity to develop market surveys for new products."
Last year, students worked on projects for Perry-based Charles Machine Works Inc., Stillwater-based technology firm Strategic Solutions Inc., and other companies.
"It allows us to make connections and develop skills in communication and teamwork in a practical setting while also working on weaknesses in a job setting," Quade said.