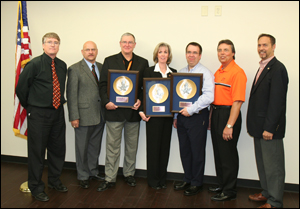 (PONCA CITY, OKLA. -- Dec. 4, 2007) -- Two $500,000 checks were presented today to Oklahoma State University. The checks from ConocoPhillips and Ponca City are the second installment of a combined $4 million commitment to fund the OSU University Multispectral Laboratory sensor research facility.
In a presentation at the UML in Ponca City, Ponca City Mayor Homer Nicholson and ConocoPhillips Refinery Manager Ron Armstrong each presented checks in the amount of $500,000 to OSU Assistant Vice President for Research Toni Shaklee.
"The partnership developed to develop this facility has been truly remarkable," said Mayor Nicholson. "Today is just one more example of ConocoPhillips, Ponca City and Oklahoma State University all delivering on commitments made. We're very proud to have the UML and OSU here in Ponca City."
The checks are the second of four installments to fund the OSU sensor facility, which will serve federal, state and local commercial organizations. The UML is located in a 70,000 square-foot building at the ConocoPhillips complex in Ponca City. The facility is part of a $2 million ConocoPhillips gift that is being matched by the City of Ponca City through the Ponca City Development Authority.
"ConocoPhillips is pleased to contribute to this important OSU testing facility and laboratory, which will also provide significant economic benefits to Ponca City and North-Central Oklahoma," said Armstrong, ConocoPhillips refinery manager and Ponca City lead executive.
"Oklahoma State University is extremely grateful to the continued support it has and is receiving from ConocoPhillips and the city of Ponca City," said Steve McKeever, OSU vice president for Research and Technology Transfer.
McKeever added, "The success of the UML hinges on all of us – OSU, ConocoPhillips, Ponca City and AMTI – working cooperatively to create a one-of-a-kind facility in the nation where testing, evaluation and training is all done in a single location."
Ponca City recently received the International Economic Development Partnership of the Year Award for its collaboration with OSU and ConocoPhillips.
The UML will develop and test sensors and sensor systems. The primary mission is the rapid transfer of innovation through to commercialization and use. It is designed to support fast tracking and development of chemical, biological, radiological, nuclear and explosive detection systems, as well as provide support for command, communications, intelligence, surveillance and reconnaissance systems.
OSU is partnering with AMTI, a leading government contractor and a subsidiary of Science Applications International Corporation. When fully operational the UML facility in Ponca City, with a satellite facility at OSU, will employ 80 scientists, engineers and support personnel and provide a projected economic impact to Ponca City exceeding $140 million during the next 10 years.