Defense technology engineer to receive alumni award at OSU
Tuesday, April 10, 2007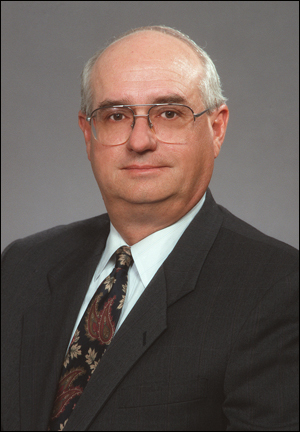 An Okeene, Okla., native whose engineering accomplishments include early developments in medicinal use of lasers and electronic innovations that helped reduce the loss of American pilots and warplanes in post-Vietnam War conflicts will be honored at Oklahoma State University.
Les Priebe, Ph.D., a Senior Principal Engineering Fellow at Raytheon, will receive the 2007 Melvin R. Lohmann Medal, the OSU College of Engineering, Architecture and Technology's highest alumni recognition for career achievement. He will be honored during a ceremony April 13 at the ConocoPhillips OSU Alumni Center.
Spanning more than 30 years including his time at Texas Instruments, which Raytheon acquired in 1997, Priebe's career includes fundamental contributions to major innovations in electronic warfare systems by the leading developers of defense technologies. Many are classified, but Priebe revolutionized the direction finding performance of missiles used by aircraft to destroy various early warning radar and enemy air defense systems with his redesign and development of the antennae and seeker for the High-speed Anti Radiation Missile, or HARM.
Now the standard U.S. tri-service anti-radiation missile, the AGM-88 HARM is a centerpiece of Raytheon's smart weapons arsenal and the most widely deployed weapon of its type worldwide.
While heading production of an electronic combat and reconnaissance version of the German Tornado aircraft for European NATO partners England, Italy and Germy, Priebe led development of the Emitter Location System, the highest performance and most reliable aircraft tactical electronic support system in existence.
Priebe holds three patents for developments in systems engineering, architectures and critical technologies for RF transmitters and receivers, world-class systems suppression of enemy air defenses and air-to-air combat missions and next generation multi-sensor systems for detection of targets.
Since his 2004 appointment to Senior Principal Engineering Fellow, Raytheon's foremost rank for technical professionals, Priebe has been involved in the company's development of homeland security technologies and its Improvised Explosive Device Defeat Task Force.
Priebe served in the U.S. Marine Corps before attending OSU and receiving his bachelor's degree in electrical engineering in 1970. He subsequently accepted a National Science Foundation Traineeship and completed his master's at the University of Texas where he designed automated data collection and analysis equipment for laser safety research.
He earned his Ph.D. in biomedical engineering also at UT, simultaneously serving as a director of its biomedical program's laser research laboratory. In addition to early treatment of diabetic retinopathy, he oversaw some of the earliest studies in the country on diagnostic and surgical use of lasers.
Presented in conjunction with its year-end awards ceremony and spring Associates meeting, OSU's College of Engineering, Architecture and Technology established the Lohmann Medal in 1991 in honor of Melvin R. "Pete" Lohmann, who served at OSU for 36 years. While dean from 1955 until 1977, he led the college to national prominence while providing national leadership in the movement to adopt the professional school concept in engineering education.
Previous Lohmann Medalists include global positioning receiver systems (GPS) innovator Jerry Holmes, Clinton White House scientific adviser Duncan Moore and Dr. Ed Roberts, father of the personal computer.