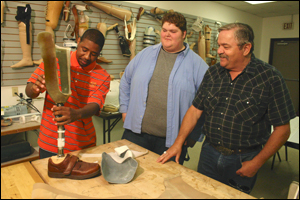 (Okmulgee, OK -- December 17, 2007) – Improving people's lives is the goal of one young man who entered the orthotics and prosthetics degree program at OSU-Okmulgee this semester. Joseph Dixon says he wants to help people heal and help eliminate discomfort, such as his father experienced as a result of disabling conditions from injuries he received in the Vietnam War. His father, Valdon Dixon, who has been totally disabled for 17 years, experiences constant pain.
"I grew up seeing my dad always hurting," says Joseph, "so I decided to find a way I could help others who have experienced an amputation or severe injury. Today, there are many military personnel coming home with injuries who could benefit from orthotics and prosthetics, so I would like to be able to help them and others."
Keith Crownover, director of OSU-Okmulgee's Orthotics and Prosthetics Program, says Joseph has chosen a career where opportunities abound. "Our graduates have numerous career opportunities across the nation, and will make excellent salaries. People with disabilities who are in need of orthotic and prosthetic services will benefit from students like Joseph who are choosing to attend OSU-Okmulgee's orthotics and prosthetics program."
Valdon says when the family came to the OSU-Okmulgee campus for a tour, they were able to see the instructors in action. "We saw a lady being fitted with a prosthesis at the clinic – we were able to see her walk for the first time, and see how the instructors made sure the prosthesis fit perfectly and allow her to walk correctly, and that was pretty neat."
The Dixon family initially learned about OSU-Okmulgee's orthotics and prosthetics program from the Veterans Administration in Oklahoma City. "The people at the VA said OSU-Okmulgee was one of the best technical schools for what he wanted to learn," says Valdon. "After seeing the facilities here, we agreed and Joseph enrolled right away."
Crownover adds the need for orthotics and prosthetics professionals is great. He says that according to the Web site for SPS, the largest O&P product distributor in the world, in 2007 there were 897 military service men and women who had amputations. There are 1.3 million amputees currently in the U.S., and 185,000 amputations are performed each year.
Now that Joseph is a student at OSU-Okmulgee, he feels he made the right choice of college. "The instructors really care about the students' needs, and the technology in the orthotics and prosthetics labs is outstanding." Joseph's career goals include working for the Veterans Administration after he earns his associate degree from OSU-Okmulgee. Valdon Dixon says his son is making him very proud because he wants to help disabled veterans lead a better life.
About OSU-Okmulgee
The Oklahoma State University-Okmulgee campus and facilities is designed to prepare students for the high-performance jobs and provide the support they need to succeed. The campus is easily accessible from most of eastern Oklahoma and is home to a friendly, welcoming community where students receive supportive personal attention from faculty, enjoy small classes, and work closely with other students who share the same interests and goals. At the same time, the campus provides a learning environment that builds the knowledge, discipline, skills, and work habits top employers demand.
For more information, call 918-293-4680 or 1.800.722.4471. Information also is available online at www.osu-okmulgee.edu.