NBC's Russert to speak in Tulsa and OKC
Thursday, January 11, 2007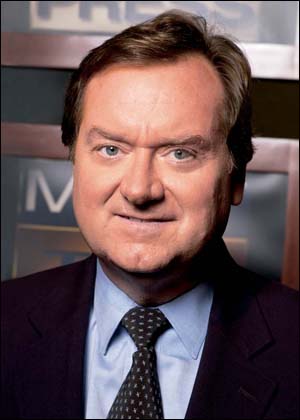 Oklahoma State University is bringing Tim Russert, the managing editor and moderator of NBC's "Meet the Press," to the state on Monday, Jan. 29, when he will appear at the Tulsa Performing Arts Center from 10 – 11:30 a.m. and Oklahoma City Civic Center from 4 – 5:30 p.m. as part of the university's annual business speaker series, sponsored by the Spears School of Business. Russert's presentation in Tulsa will be followed by a luncheon at the nearby Crowne Plaza Hotel.
"It's a pleasure for us to host Tim Russert and share him with the Oklahoma business community," said Dean Sara Freedman, Spears School. "Mr. Russert has interviewed every major figure on the American political scene, so we expect he'll have plenty of interesting insights to offer."
As an attorney, Russert got a close-up look at the inner workings of the legislative process while serving as a special counsel in the U.S. Senate from 1977 to 1982. He also worked as a counselor for the New York Governor's office before joining NBC News in 1984. Since he took the helm of "Meet the Press" in December of 1991, the program has become the most watched Sunday morning interview program in America and the most quoted news program in the world.
Russert's first book, "Big Russ & Me," a memoir about growing up under the watchful eye of his father, was a #1 New York Times bestseller. His latest book, "Wisdom of Our Fathers: Lessons and Letters from Daughters and Sons," contains selected letters from children who read Russert's first book and wrote him about their own fathers.
Born in Buffalo, New York in 1950, Russert graduated with honors from the Cleveland-Marshal College of Law. He married Maureen Orth, a writer for "Vanity Fare" magazine. They live in Washington, D.C. with their son, Luke.
Edward Whitacre, chairman and CEO, AT&T Inc., will be the final speaker in this year's Executive Management Briefings series in Oklahoma City. He will address "The Brand New State of Telecommunications" at a luncheon presentation Thursday, April 5, at the National Cowboy Museum.
John Hofmeister, president of Shell Oil Company, will be the final speaker in this year's Tulsa Business Forum series. He will address energy security and diversification at a luncheon presentation Wednesday, April 25, at the Renaissance Tulsa Hotel.
Reservations are available through the Center for Executive and Professional Development (CEPD) at OSU. For more information, call toll free 1-866-678-3933 or emailing cepd@okstate.ecu . You can also register online by visiting the CEPD website at www.cepd.okstate.edu.