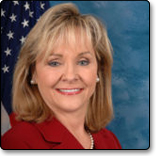 OSU is preparing for the forecasted snow and will hold its ceremonies as scheduled. Students and families should use their own judgment regarding travel and their safety. Those not able to attend the Fall ceremony will be welcomed to participate in Spring Commencement in May.
OSU graduate and U.S. Representative Mary Fallin will be the featured speaker at commencement ceremonies Saturday in Gallagher-Iba Arena. Bachelor's degree candidates will go through ceremonies Saturday. Masters and doctoral candidates ceremonies will be held Friday.
Details on commencement ceremonies can be found at commencement/ .