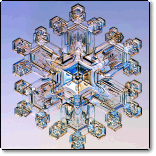 Oklahoma State University-Stillwater will be open Tuesday, conducting its second day of final exams as scheduled. OSU officials made the decision to remain open after assessing weather conditions at 4 a.m. Tuesday. Roads and sidewalks remain icy in spots and students, faculty and staff are reminded to be extra careful while traveling to and on campus.
Students unable to report to campus due to the weather should contact their professors immediately regarding arrangements for make-up exams.
"Students, faculty and staff are to be commended for making final exams and other campus activities go as well as possible considering the weather conditions," said interim OSU President Marlene Strathe. "We appreciate the many hours of hard work by our Physical Plant employees and the extra effort by faculty and staff to keep final exams on schedule.
"Students, faculty and staff should take extreme caution in traveling to campus and should always remember to make safety their No. 1 priority," Strathe said.
To help with final exams, OSU students are reminded that Student Affairs is sponsoring free pancakes Monday through Thursday in the Student Union dining area from 10 p.m. to 1 a.m.
Oklahomans urged to prepare for threat of winter storm
(link)