Ray Huhnke
Wednesday, January 24, 2007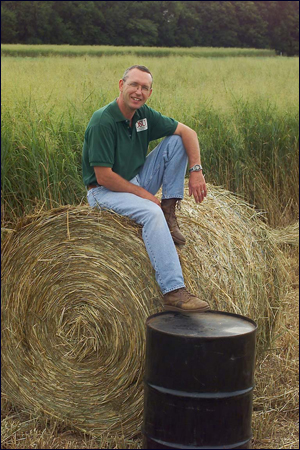 For the second consecutive year, President George W. Bush discussed in his State of the Union address the country's need to reduce its gasoline consumption by stepping up production of alternative fuels. OSU engineers and scientists are working on a novel process for ethanol production they believe will not only reduce America's dependence on foreign oil but also launch a second agricultural revolution and begin the revitalization of rural economies.
The gasification/bioreaction process developed by OSU's biofuels research team and their collaborators at several other universities converts low-cost, under-utilized biomass into ethanol and other value-added products. Because the "grass to gas," or "grassahol," conversion utilizes total biomass, such as perennial grasses and crop residues, rather than just grains, it holds the potential to increase ethanol yields. In fact, the estimated energy gain of ethanol produced from corn grain is only 34 percent while gains from switch grass are estimated at over 300 percent. And unlike corn, perennial grasses are resilient and can flourish on marginal cropland without tilling and cultivation, reducing farmers' expenses.
Led by Dr. Raymond Huhnke, professor of biosystems and agricultural engineering, the researchers envision their work leading to the establishment of small- to medium scale ethanol production plants in rural communities. Such facilities centrally located in biomass production and waste biomass generation areas would have a significant impact on rural economies. A recent OSU study predicts a 100-million-gallon-per-year biomass-to-ethanol conversion facility would provide over $25 million to local farmers while the facility would employ more than 30 individuals.
The research now involves efforts to improve the efficiency of the process with the goal of producing ethanol at a cost less than $1.00 per gallon based on a conversion efficiency of over 60 gallons per dry ton of biomass, or one barrel of fuel per hay bale of switchgrass.
OSU's biofuels research involves the Oklahoma Agriculture Experiment Station, and the team of researchers includes engineers, molecular biologists, plant and soil scientists, biochemists and economists.
Contact:
Ray Huhnke, OSU professor and associate director of the Sun Grant Initiative – South Central Region
Telephone: 405-744-8417
or email: rhuhnke@okstate.edu
For more information on Huhnke, visit http://biosystems.okstate.edu/faculty/huhnke_index.htm