Okmulgee breaks ground on Rural Health Science and Technology Center
Friday, May 23, 2008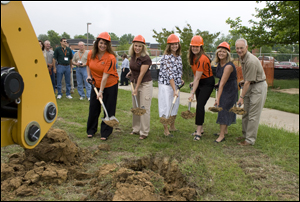 Building will double OSU Institute of Technology-Okmulgee's capacity to train nurses for rural Oklahoma

(May 23, 2008 OKMULGEE, Ok.) – Oklahoma State University Institute of Technology launched an important new Rural Health Science and Technology building Thursday, May 22, with a groundbreaking on its Okmulgee campus. The $6 million dollar, 23,000-square foot facility will house the school's nursing program, allowing the college to more than double the number of Registered Nurses it graduates.
OSU Institute of Technology President Bob Klabenes said the building, located on the west side of the campus, will provide an excellent opportunity for OSU Institute of Technology to meet the extremely high demands for rural RNs. "This is critical to the redevelopment of rural Oklahoma, and that is the focus of this program. We have a significant waiting list and the new Rural Health Science and Technology Center will allow us to enroll at least twice as many students as we have now."
The new building will feature four classrooms, a computer lab and three nursing labs that will parallel the facilities and equipment in modern hospitals. Nabholz Construction of Tulsa was given the contract and the building is scheduled to open in July of 2009.