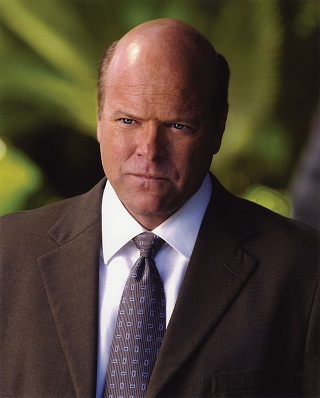 Story by Lorene Roberson Hickey '84
© CBS Entertainment photos
It's been quite a life for 1980 alumnus Rex Linn, the actor who co-stars in CSI: Miami and who has appeared in more than 35 films alongside actors such as Kevin Costner, Tom Selleck and Sylvester Stallone.
Today, people easily recognize Linn, 53, as homicide Det. Frank Tripp on the enduring CBS hit CSI: Miami.
There's one constant in his career — perseverance. Linn never forgot advice from the late actor Roy Scheider.
Scheider and Linn had just wrapped up Night Game in Galveston, Texas. "All I wanted was Roy Scheider's autograph since it was the first time in my career that someone really gave me a chance," says Linn.
Linn got the autograph (he still has it at his Sherman Oaks, Calif., home) and solid wisdom from Scheider, who told him, "One of the things I realize about you is that you listen and that's important for an actor to do. I can tell you're raw, but you have a lot of talent. Just remember, it doesn't matter what coast you're on, perseverance is the key."
Linn now gives the same advice to new actors. "Hit the street and do whatever you can. It's the toughest business you can be in."
Linn talks easily about Hollywood and the many actors (he doesn't like calling them movie stars) he has worked with over the years. However, thoughts of Oklahoma pepper his conversation.
Recently, Linn returned to help pack the belongings at his dad's home in the Waterford community in Oklahoma City. James Paul Linn died at the age of 83 on Oct. 24, 2009.
"I buried my hero, so these have been a tough few months," Linn says of his dad who was a trial attorney representing clients who included rock star David Bowie, the former Philippine first lady Imelda Marcos and former OSU football coach Jim Stanley.
On Safari
In 1956, Rex Maynard Linn, the third child of James Paul and Darlene Linn, was born in Hansford County, Texas. In 1969, the elder Linn moved the family from Spearman, Texas, to Oklahoma City, so he could practice law.
When 5 years old, Linn wanted to be three things when he grew up — an actor like Boris Karloff who played Frankenstein or Lon Chaney Jr. who played Wolf Man, a football player at the University of Texas and a veterinarian.
Linn's come close to reaching those goals but not without a few detours.
He hasn't forgotten his first day at Heritage Hall School, a private prep school in north Oklahoma City. "I walk into a classroom with a flattop and red grease in my hair wearing penny loafers and white socks. This one guy, Anthony Meyers, wearing his T-shirt and tie-died jeans with long hair says to me, 'What planet you from, dude?'"
Meyers and Linn became lifelong friends.
In the summer of 1970, Linn met Greg Curtis when they both worked at the Oklahoma City Zoo.
Linn worked in the concession stand. While behind the counter, Linn would peek out and observe the tram drivers. On breaks, he would walk down to the herpetarium — the snake house.
"All I wanted to do was be around the animals," he says.
By the third summer, Linn donned a zoo uniform and safari hat to give a 25-minute tram tour of the 110-acre zoo. Both he and Curtis memorized 23 pages of dialogue. "Now that I think about it, memorizing the long spiel helped me in acting a lot," Linn says.
His passion for animals didn't completely overshadow Linn's mischievous side or forestall the dubious activities of racing the trams or overstaying a break at the herpetarium when a new shipment of snakes arrived. The zoo fired and rehired Linn and Curtis four times in five years.
"Greg and I had the coolest job in the state of Oklahoma, but we got in more trouble than you could imagine. Working at the zoo is one of the highlights of my life," he says. "Except for getting fired."
The 88-Cent Lean Years
Linn graduated from Casady School in Oklahoma City. At OSU, he roomed with Tom Taggart, now a successful veterinarian in Minnesota.
There was always a pack of dogs at their house on Fourth Street in Stillwater. Despite Linn's love of animals, vet school was not in the cards. "To be a vet, you have to hit the books hard, and you can't go to Pokes or The Attic and stay out until 2 in the morning," he says.
Again, the mischievous side had a way of coming out, and Linn participated in his share of college pranks. He might know something about how a 1,800-pound plastic cow "borrowed" from Sirloin Stockade restaurant on Sixth Street found its way into Theta Pond. The caper involved a plan, a truck and a chain. "It was a great feat, and we were all so happy until we learned the (Stillwater) detectives were investigating it."
In 1980, Linn earned a bachelor's in radio-television-film. His dad hung the diploma in his law office. Linn recalls his dad's words: "I thought this would never happen, but I don't want to know all the particulars."
From 1980 to 1990, Linn worked as a loan officer for two banks in Oklahoma City and later oversaw oil field operations in western Oklahoma.
At the same time, Linn auditioned for acting roles. He recalls shooting some very bad commercials.
"The first time I was in front of a camera I did a commercial for Safeway," Linn ruefully tells of shilling beef brisket in a firefighter's uniform. "Beef brisket for only 88 cents a pound. Now that's a hot deal."
In 1986, he worked with Oklahoma Publishing Company president E.K. Gaylord II on a film called Shadows on the Wall.
"My acting career started behind the camera thanks to Ed Gaylord," he says. "I was a nervous wreck, but I hung in there."
At his dad's urging, Linn sold his home, packed up a U-Haul and finally made the move to Hollywood at the age of 32.
Tall in the Saddle
Fast forward 21 years and Linn plays the cynical police Det. Frank Tripp on CSI: Miami opposite David Caruso starring as Lt. Horatio Caine.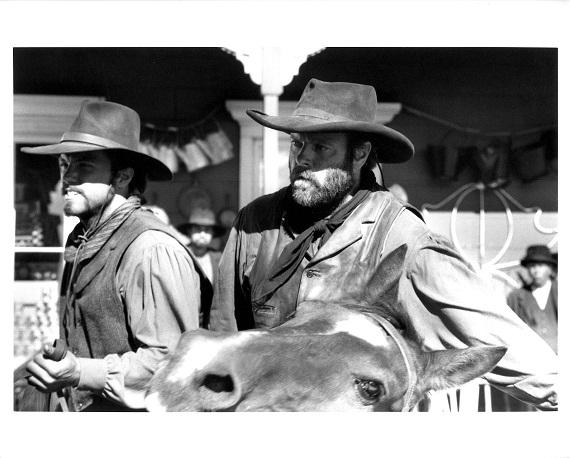 "It's great working with David Caruso. He raises the bar professionally. I do 99 percent of my scenes with him, and you have to be prepared to come to work with David. He has helped me become a better professional."
Fans also know Linn for his bad-guy role in Cliffhanger starring Sylvester Stallone and John Lithgow.
One of Linn's favorite experiences was playing cowboy Frank McLaury in the 1994 Wyatt Earp film featuring Kevin Costner.
"I ride into Tombstone in late afternoon with purple skies ahead of me," Linn recalls. "I'm on my kick-ass horse named Dallas, have on the coolest wardrobe, a six-gun and a scar on my face and think to myself, 'I dreamed about this as a kid. Hell, I'd pay them to do this. Thank you, Lord. I will never forget this moment. Never.'"
More recently, he appeared in Appaloosa, written by fellow Oklahomans Ed Harris and Robert Knott. Although Linn had worked with Knott several times as an actor, he had never worked with longtime friend Harris until Appaloosa.
In April, Linn emceed the Western Heritage Awards for the National Cowboy and Western Heritage Museum in Oklahoma City. The Hall of Great Western Performers inducted Linn's close friend Tom Selleck with whom he has filmed four westerns.
"I have seen my dad on the stage at the Cowboy Hall a lot of times," Linn says. "So inducting Tom Selleck was a great thing to do and really special. It was my tribute to my dad."
In the 1980s, Linn's dad gave legal advice to help the museum weather a financial crisis that almost forced a move out of state.
Linn remembers his father's last words before walking on the stage to induct Selleck, "Carry the torch and represent the Linn family well."
"I've acted in a lot of successful westerns, and it has helped me growing up around cowboys," Linn says. "I'm a good rider, and I don't have to fake much. But I have never considered myself good enough to ease into the cowboy world."
A Longhorn Cowpoke
Linn may deny he's a cowboy, but he'll admit to being a cowpoke even though he's been a Longhorn fan since he was a toddler.
"But I am a longhorn and a cowpoke, baby! Longhorns and cowpokes never argue. We have one thing in common. OSU wants to beat OU. Texas wants to beat OU!"
Last year, Linn saw the Boone Pickens Stadium for the first time when Texas played OSU. "I walked in the stadium and said, 'Wow.' The stadium is unbelievable. I am so proud of OSU fans. It's good to be a part of Stillwater."
There's no doubt Linn loves his life — football, family, friends and then the acting … one thing seems to elude him, however.
Marriage, he says.
That's about to change. "I came all the way to California to find my Texas girl," Linn says of Renee Derese, a trauma unit nurse. "The guys on the (CSI: Miami) set said I have met my match.
"I am the luckiest guy on the planet."
This story originally ran in the 2010 College of Arts & Sciences magazine.