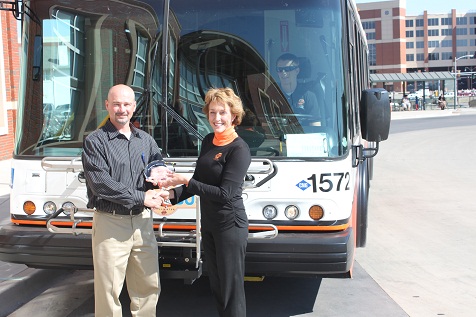 First Lady Ann Hargis was the celebrity winner of the 8th Annual Oklahoma State University Bus Roadeo on Oct. 1.
The Roadeo is an annual event where celebrities from the OSU and Stillwater communities get an opportunity to test their skills behind the wheel of an OSU Transit bus on a closed competition driving course. The event also serves as an opportunity for OSU Transit operators to compete against one another for the opportunity to represent OSU at the State Bus Roadeo in November. The winner of the OSU Transit driver portion of the Roadeo was Jim Henning.
For the celebrities, the event began with a quick tutorial of how to operate the bus and then a drive through of each of the course challenges. After the five minute lesson, celebrities got behind the wheel to give the course a try.
Other celebrity drivers included: SGA Vice President Kyle Buthod, 2nd place winner; SGA President Ashley Leonard, 3rd place winner; OSU President Burns Hargis, the O'Colly's Thad Ayers, and KOSU's Ben Allen.
For more information on OSU Transit, please visit www.transit.okstate.edu.