OSU coach Kurt Budke, assistant coach Miranda Serna killed in plane crash
Friday, November 18, 2011
For more photo's from Memorial Service click here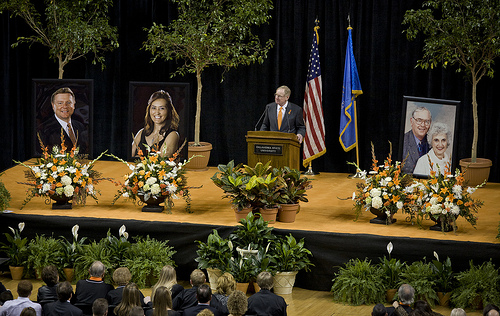 The Oklahoma State University family, joined by guests from across Oklahoma and other Big 12 universities, came together today to remember the lives of OSU women's basketball coach Kurt Budke, assistant coach Miranda Serna, and OSU alumni Olin and Paula Branstetter during a memorial service held at Gallagher-Iba Arena. The four were killed in a plane crash Thursday in Arkansas.

In his remarks, OSU President Burns Hargis noted that "All four spent their lives doing what they loved to do. For the Branstetters—aviation, and for Kurt and Miranda, it was basketball."

Hargis said, "Coaches are lucky, they have a record. But I submit the record is not just the wins and losses, it's the people they influenced and taught. The productive lives of their players are more important than the wins. The coaches we all cherish are the ones that taught us to believe in ourselves.

"Paula and Olin Branstetter and all their children were not only graduates of OSU, but longtime supporters of our programs," said Hargis. "They have established scholarships in aviation and business that have enabled many students to achieve their dreams."

Jim Littell, who has been named interim head coach for the Cowgirls, described his colleague Serna by saying, "Miranda had a passion for life and loved people. She made everyone feel special. She was a tireless recruiter who was loyal to coach Budke and the Cowgirls."

Littell said his long-time friend Budke set a great example by putting his faith, family and his coaching in proper perspective. He talked about the impact he had on his extended Cowgirl family. He also told stories that spoke to Budke's competitive fire.

Former Cowgirl player Taylor Hardeman credited Budke with the team's success and called him "a father figure to us all."

Hargis announced that scholarships had been established in the names of all those who had been lost in the tragedy.

Among those in attendance were Oklahoma Gov. Mary Fallin, Boone Pickens, as well as most current OSU athletes and many former players and staff from the schools where Budke coached.

The OSU Athletic Council issued the following statement: "We offer our heartfelt condolences to everyone affected by this tragedy, especially to the families of those lost. Coaches Budke and Serna were a credit to their profession and we are very grateful for the positive influence they had on the scholar-athletes they educated during their time at OSU. The Branstetters were loyal and true alums and their legacy at OSU will live on. These four individuals are a part of the OSU family, and they will be greatly missed."

The OSU Student Government Association will host a candle light vigil at 8 p.m. at Chi-O clock tonight, Monday, Nov. 21. The Chi-O clock is located between the Student Union and the Classroom Building. SGA invites the OSU family to join in the vigil which will commemorate a new tradition to remember these four wonderful individuals. Orange wreaths will be place annually on the Chi-O clock in their honor.
---

CLICK HERE TO VIEW LIVE BROADCAST OF MEMORIAL SERVICE - Nov. 21 at 1 p.m.


Click here to sign the guest book for the Memorial Service

---
UPDATE | 6 p.m. | November 20
The Oklahoma State University Student Government Association will host a candle light vigil at 8 p.m. at chi-o clock on Monday, November 21. Chi-o clock is located between the Student Union and the Classroom Building. SGA invites the OSU family to join in the candle lighting vigil to remember Kurt Budke, Miranda Serna, Olin Branstetter and Paula Branstetter. The vigil will commemorate a new tradition at Oklahoma State University to remember these four wonderful individuals. Orange wreaths will be placed annually on Chi-O Clock in their honor.
---

UPDATE | 6:30 p.m. | November 18


Memorial service set for Monday; 12:30 p.m., 1:30 p.m. classes canceled
Oklahoma State University will hold a memorial service on Monday, Nov. 21 at 1 p.m. to honor the lives of OSU Women's Basketball Coach Kurt Budke, Assistant Coach Miranda Serna and OSU alumni Olin and Paula Branstetter.
The service is open to the public.
Monday classes held between 12:30-2:30 p.m. are being canceled in order for the university community to attend the memorial service. Classes beginning at 2:30 p.m. will still be held. Instructors are asked to make up for the missed material in an appropriate way at a later date.
The campus remains open, but as appropriate, faculty and staff are encouraged to attend.
---
UPDATE | 3:15 p.m. | November 18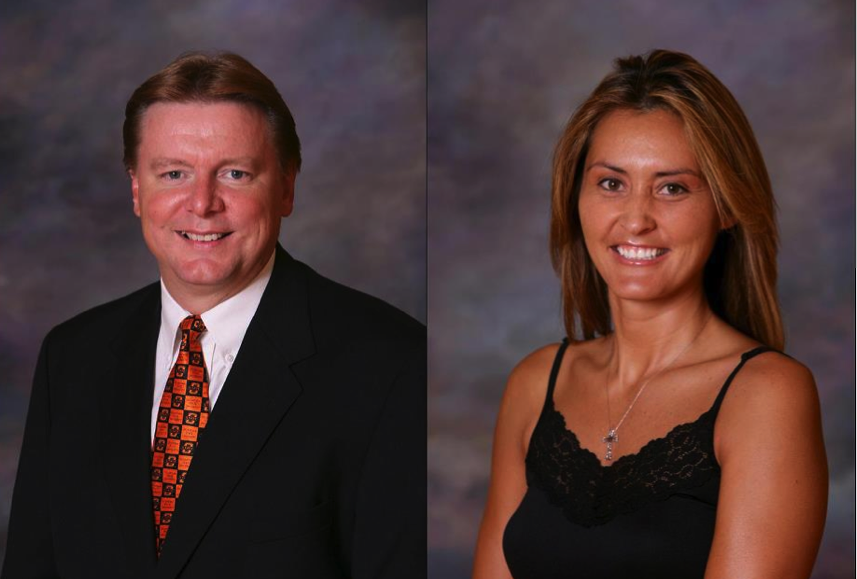 Statement from T. Boone Pickens on Cowgirl Basketball tragedy
"This is a sad day for OSU Cowboy Nation. I'm stunned and saddened that another tragedy has hit our basketball program. My heart goes out to so many… Kurt Budke's and Miranda Serna's families as well as the members of the OSU Women's Basketball team who have been touched by their passionate commitment to sportsmanship, competition and un unwavering focus on responsibility. I grew to know and respect Coach Budke during his seven-year coaching history at OSU. His star burned bright and his loss will sadden yet strengthen the University for generations to come."
---
UPDATE | 3:05 p.m. | November 18
Statement from Coach Mike Gundy on Cowgirl Basketball tragedy
"We are very sad to learn of the death of Coach Budke and Coach Serna. We are a tight family at OSU. Our coaches are very close, and we pull for each other. They both always had encouraging words and were excited about our season. Our prayers go out to the families and team."
---
UPDATE | 2:15p.m. | November 18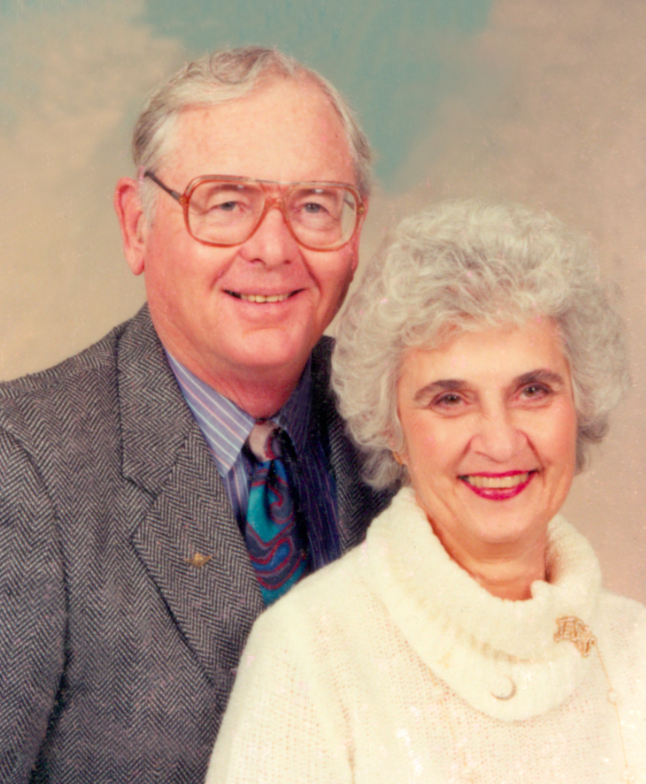 Also killed in the crash were OSU alumni and supporters Olin and Paula Branstetter of Ponca City. Mr. Branstetter, a former state senator, was the pilot. "We also extend our thoughts and prayers to the Branstetter family, which has a long legacy of support to OSU," said OSU President Burns Hargis.
---

Oklahoma State University women's basketball coach Kurt Budke and assistant women's basketball coach Miranda Serna were killed along with two others Thursday night in a plane crash in Perry County, Arkansas.
Budke and Serna were on a recruiting trip to Arkansas. The other two individuals, including the pilot, were not employed by the university. There were no survivors.

"The Oklahoma State family is devastated by this tragedy," said OSU President Burns Hargis. "Our hearts and prayers go out to the families of Kurt Budke, Miranda Serna and the other victims.

"Kurt was an exemplary leader and a man of character who had a profound impact on his student-athletes," Hargis said. "He was an outstanding coach and a wonderful person. We send our deepest sympathies to his wife, Shelley, and their children, Sara, Alex and Brett.

"Coach Budke elevated our women's basketball program to new levels of success," Hargis said. "He and his staff raised our profile in the nation's toughest conference."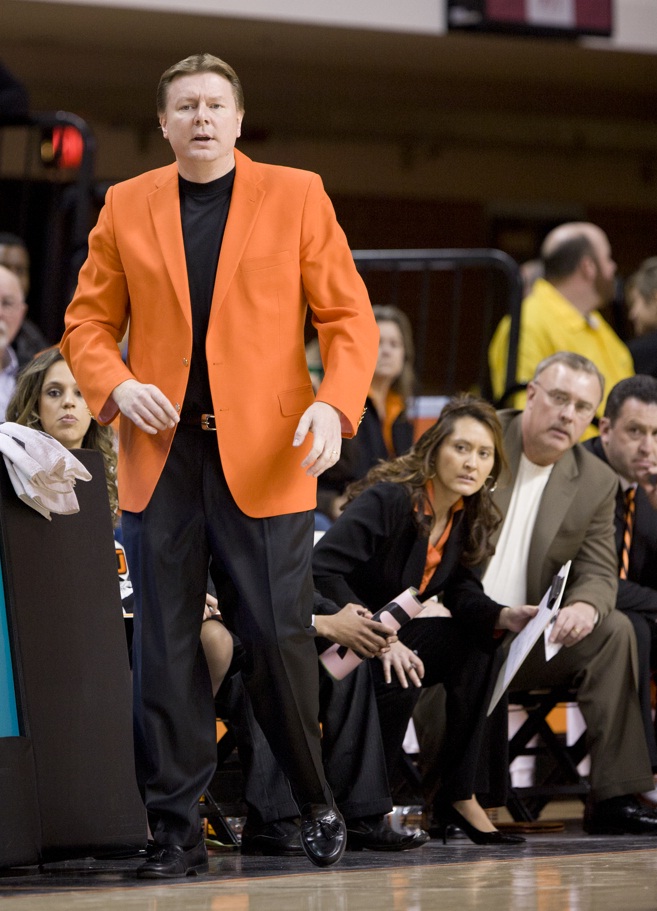 "Miranda was an up-and-coming coach and an outstanding role model for our young ladies."

Mike Holder, OSU vice president for athletics, said, "We are shocked by this terrible loss. Kurt Budke was an incredibly positive influence on his players and was a tremendous coach. He quickly turned our program around and put Cowgirl basketball on the map. Miranda was a tireless worker and great recruiter."
Holder said Jim Littell, associate head coach, would assume duties as interim head coach. The university announced the Cowgirls will not play games scheduled Saturday and Sunday. OSU counselors and athletic staff are offering assistance to the Cowgirl student-athletes and staff.

Budke was in his seventh season as Cowgirl coach, with an all-time record of 112-83. His team was 1-0 after a convincing victory over Rice Sunday. Under his direction, OSU made postseason appearances each of the past five seasons, including three trips to the NCAA tournament.

In the 2009-10 season, the Cowgirls won 24 games, including a school-record six victories against Top 25 teams, achieved a top-10 national ranking for the first time ever and reached the second round of the NCAA Tournament.

Budke transformed a program that endured a winless conference season in 2005-06 into a league title contender and NCAA Sweet 16 participant just two years later.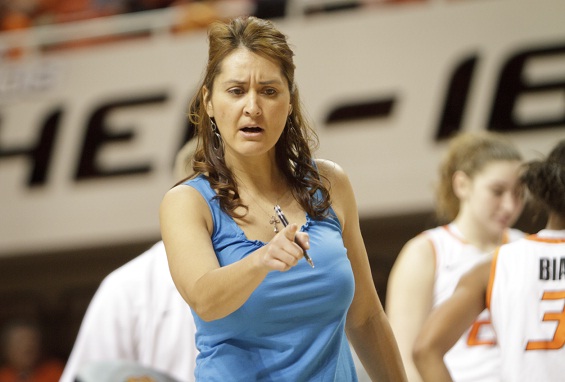 Before coming to OSU in 2005, Budke was a head coach for 12 seasons at Allen County (Ks.) Community College, Trinity Valley (Tx.) Community College and Louisiana Tech. His career record as a head coach was 465-130. Budke started coaching in 1984 as a graduate assistant at Washburn University before taking an assistant coaching position at Friends University.

A Salina, Kan., native, Budke earned all-conference honors as a player at Barton County (Ks.) Junior College in 1981. Budke was born June 3, 1961 and is married to the former Shelley Balthazor. They have three children; Sara, who is a student at OSU, Alex and Brett.

Miranda Serna was in her seventh season as an assistant coach at Oklahoma State. She previously worked in the same capacity at Louisiana Tech under Budke.

Serna helped guide the resurgence of the OSU women's basketball as the program's recruiting coordinator. As a player, the Guadalupita, N.M. native helped lead Trinity Valley Community College to the NJCAA national title in 1996 and finished her collegiate career at Houston.