OSU spin-out named one of Oklahoma's Most Promising New Ventures
Tuesday, November 15, 2011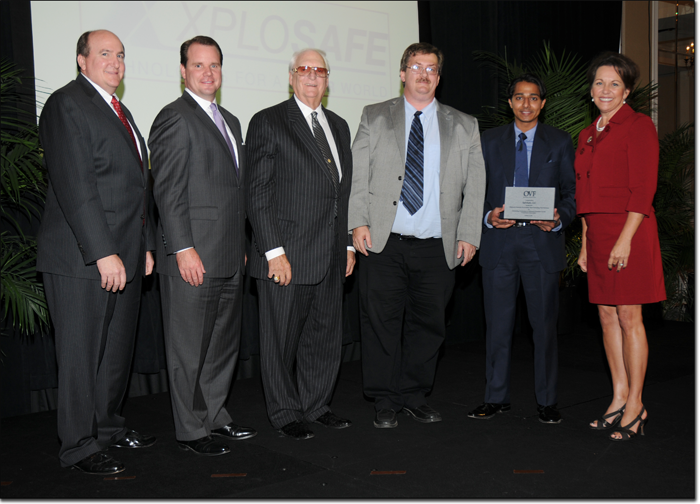 An Oklahoma State University spin-out company, XploSafe, was recently named one of Oklahoma's Most Promising New Ventures by the Oklahoma Venture Forum, a group dedicated to fostering the growth of new and existing business ventures in Oklahoma. The award recognizes the achievements of successful new Oklahoma companies and is designed to encourage and recognize the importance of entrepreneurship in our state, said Mindy Young, executive director of OVF.
XploSafe was created in June 2009 to commercialize explosives detection technologies developed by OSU chemists Drs. Allen Apblett and Nick Materer. The company serves homeland security clients and chemical safety personnel across chemical labs and pharmaceutical manufacturers. XploSafe is managed by OSU alumnus Shoaib Shaikh.
"We are pleased to be recognized as one of the most promising ventures in the State of Oklahoma," Shaikh said. "This acknowledgement highlights the commitment and work ethic of our team. XploSafe is also thankful for the opportunities provided by the state and assistance available through organizations such as the OSU School of Entrepreneurship, The Riata Center for Entrepreneurship at OSU, The Office of Intellectual Property Management at OSU and OCAST. Their support has fueled the emergence of XploSafe as a solutions provider for homeland security and chemical safety."
XploSafe has launched seven new products across two product lines since its formation in 2009. Its first product line, XploSens, is used for trace detection of improvised explosives. The products in the line work by dramatically changing color in the presence of peroxide, chlorate, bromate-based and sprengel explosives, providing a one-step, real-time, onsite detection of improvised explosives. XploSafe's second product line, XPell, works by eliminating peroxide formation in organic solvents. XPell allows for the proper management of peroxide-forming solvents, reduces chemical costs, improves reactions and analyses, and mitigates the hazards of peroxide-related incidents. Using the same color-change reaction, XPell is the only product on the market that provides a visual indication of the solvent's status (safe or unsafe).
"XploSafe is a great example of the technology transfer process we work on every day," said Steven Price, associate vice president for technology development at OSU. "The company demonstrates the way a problem in society can be addressed in a lab and developed into a practical solution for the market."
XploSafe has patents pending on two technologies exclusively licensed from OSU. The company is revenue positive through domestic and international sales. Global distribution of its products was achieved in March 2011 through Sigma-Aldrich, a global market leader in organic and inorganic chemicals and research product needs.
Other awards to XploSafe include two Phase 1 and one Phase 2 Small Business Innovation Research contracts and an OCAST Oklahoma Applied Research grant for FY 2011-13. The company developed from the Cowboy Idea Hatchery, a student business incubator operated by the Riata Center for Entrepreneurship and the OSU School of Entrepreneurship. XploSafe has leased office and lab space through the university's Co-Start program and has also established office and primary manufacturing facilities at the Center for Business Development at Meridian Technology Center in Stillwater.