Math professors recipients of professional honor
Monday, December 17, 2012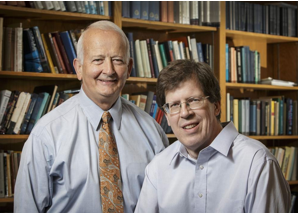 Two mathematicians from Oklahoma State University recently earned selection to the initial class of American Mathematical Society Fellows for 2013 in recognition of their international excellence in mathematical science and service.
Regents Math Professor William Jaco and Math Professor David Wright are among the 1,119 international mathematicians representing more than 600 global institutions announced by the society as inaugural AMS Fellows in the program's initial year.
"The AMS is the world's largest and most influential society dedicated to mathematical research, scholarship, and education. Recent advances in mathematics include solutions to age-old problems and key applications useful for society. The new AMS Fellows Programs recognizes some of the most accomplished mathematicians – AMS members who have contributed to our understanding of deep and important mathematical questions, to applications throughout the scientific world, and to educational excellence," Society President Eric M. Friedlander said.
Jaco heads the math department and is a Regents Professor, as well as the Grayce B. Kerr Professor at OSU. He joined OSU in 1982. His interests are in low-dimensional topology, geometry, combinatorial and geometric group theory, and computational complexity.
Wright, a full professor, joined OSU in 1985. He earned a master's and doctorate at Harvard University. His main interests are the study of the properties of algebraic number fields that can be studied with tools from the theory of algebraic matrix groups.
The Fellows designation recognizes members who have made outstanding contributions to the creation, exposition, advancement, communication and utilization of mathematics. Among the goals of the program are to create an enlarged class of mathematicians recognized by their peers as distinguished for the contributions to the profession and to honor excellence.
The OSU Department of Math is one of 24 departments in the College of Arts and Sciences. For more news, visit http://cascommunications.okstate.edu.