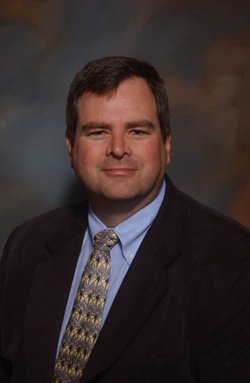 The OSU/A&M Board of Regents approved the appointment of Dr. Paul J. Tikalsky as dean of the College of Engineering, Architecture and Technology Friday during its regular meeting in Miami. Tikalsky is currently the Civil and Environmental Engineering department head at the University of Utah in Salt Lake City.
Tikalsky will assume the role of CEAT Dean on July 1. He also will hold a tenured appointment as Professor in the Department of Civil and Environmental Engineering and an adjunct appointment in the School of Materials Science and Engineering at OSU.
"OSU is pleased to welcome Paul Tikalsky to lead our College of Engineering, Architecture and Technology," said OSU Provost Bob Sternberg. "He is highly accomplished in his field of expertise and will bring a fresh vision to the college."
"I look forward to working alongside the CEAT team as we continue to develop the college into a great place of learning and discovery," said Tikalsky. "I have a passion for students. I love to see them realize that science, math, business and art can be used together to invent new technologies, solve environmental problems, design bridges and buildings, improve public health, preserve resources and make our lives better."
Tikalsky received his B.S. in Civil and Environmental Engineering from the University of Wisconsin, and both his M.S. and Ph.D. in Structural Engineering from the University of Texas at Austin.
Prior to his position at the University of Utah, Tikalsky served as a professor of Civil and Environmental Engineering at Penn State University for more than a decade, and was professor of Civil Engineering at Santa Clara University from 1989-1995.
"My background in civil and environmental engineering, as well as my work in structural materials and industrial byproduct utilization, is highly interdisciplinary in nature," said Tikalsky. "These collaborative skills will help as the OSU CEAT team works together to solve large problems that improve our world and drive the Oklahoma economy."
Tikalsky has been a Senior Research Fellow with the Czech National Academy of Sciences, and the US Army Corp of Engineers. He is a Fellow of the Engineering Academy of the Czech Republic, a registered professional engineer in the State of California, and a Fellow of the American Concrete Institute and the American Society of Civil Engineers.
Tikalsky has received numerous awards including Utah Engineering Educator of the year, is a trained ABET Program Evaluator, and was recognized for Best Paper/Presentation at the 2011 International Conference on Durability of Building Materials and Components in Porto, Portugal.
He and his wife, Julie, have two sons; Peter age 11, and Daniel age 10.