Price sets new world rowing record
Tuesday, May 22, 2012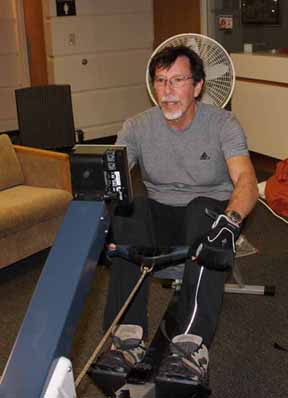 Price sets new world rowing record
Dr. Steve Price, associate vice president for technology development at OSU, set the 24-hour world rowing record for his age and weight category (male, age 60, 165-plus lbs.) during his first attempt recently at the Seretean Wellness Center.
"I was notified that my record was posted online at the Concept2 website, indicating they had accepted my data. I made sure I printed it off fast, because there's always the possibility that someone in the world will break my record and you can never be sure when that will happen, so you enjoy it for the moment," said Price.
Price, who is also the former world record holder for pull-ups in 24 hours, used web cams to record his rowing record on a rowing or erging machine. His feat was verified by the Concept2 company, which is devoted to tracking such records. Brian Carroll, president of the OSU rowing club, known as the OSU Crew Club, served as official witness for the event.
Price said he did not get sleepy during his 24 hours in the Seretean Wellness Center lobby at OSU. "Getting sleepy is not an issue for me as long as I'm busy, but I certainly was 'exhausted-tired,' starting about six hours into the row. While I was in that 'exhausted-tired' state for the remaining 18 hours--I could have continued on and on at that rate. This also suggests I was not working hard enough. Oh well, next time."
Yes, Price confirms there could be a next time, but it will likely be on the water, as he and an experienced rowing partner consider a major ocean race as early as the summer of 2013. "We're just exploring the possibility right now, it is a huge and expensive undertaking. As a trial run, he and I are going to row in the Pacific off Vancouver Island going non-stop for 72-96 hours, two hours on and two hours off, alternating at the oars while one rows and the other sleeps and eats, trying to complete 72 miles per day. That will give us a better idea about our endurance and nutritional needs."
Price has been interested in rowing since he was 11 years old. However, it was not until after setting the world record for the total number of pull-ups in 24 hours, in April of 2009, that he decided to look into setting world records associated with rowing.
OSU's Department of Campus Recreation and Wellness served as Price's sponsor for the new record. The department is committed to creating a healthy campus culture for students, faculty and staff and seeks to promote healthy lifestyles and lifelong learning through the highest quality programs in the areas of recreation and wellness. It strives to proactively provide quality, diverse recreational services and facilities for its users.
For more information about Price and his attempt to break the 24-hour rowing record, please contact him at 405-744-6930 or steven.price@okstate.edu.