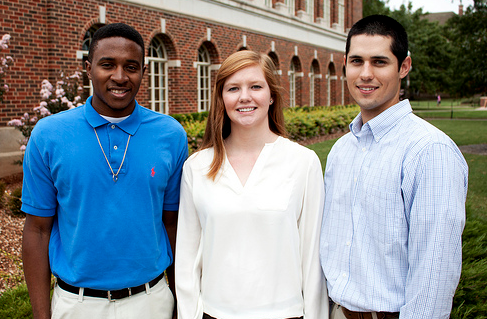 Three Oklahoma State University students have been selected to receive honors at the 2012 Women of Color Science, Technology, Engineering and Mathematics Conference hosted by Career Communications Group Magazine. Students receiving awards this year include Kayla Davis, Kody Jones and Jordan Knight.
The awards recognize students with creative verse, an exemplary academic record, university and community involvement and a proven desire to help others succeed. Students should also show leadership qualities, role model potential and desire to impact peers.
Kayla Davis, junior from Stillwater, Okla., pursuing a degree in biochemistry and molecular biology, was awarded a Research Award. Davis has previously been selected as a Wentz Research Scholars, a Niblack Research Scholar and a Freshman Research Scholar. She is currently serving as the Biochemistry Club President and the Amnesty International Club Vice President.
Kody Jones, a junior from Mustang, Okla., studying Mechanical Engineering, was selected to receive an Academic Award. Jones is a Ruben Trance Scholar, Oklahoma Academic Scholar and American Indian Graduate Center.
Jordan Knight, a senior from Kansas City, Mo., studying Mechanical Engineering, was awarded a Student Leadership Award. Knight is a member of the Honor Society of Phi Kappa Phi and the Tau Beta Pi Engineering Honor Society. He currently serves as president of OSU chapter of National Society of Black Engineers.
The students will be honored and receive their awards at the Women of Color STEM Conference on Oct. 12, in Dallas.