By Debra Schlegel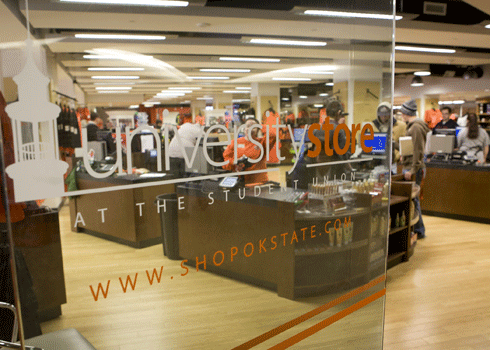 The new and improved Student Union offers new and improved ways to keep OSU students, employees and visitors informed and connected. Before the renovations, the Union had a student bookstore, a technology retail space and a separate store for OSU merchandise. Now all three are part of the University Store. "Everything is under one roof, which makes it easier for the students and staff," said Debbie Shotwell, head of Student Union marketing. "The University Store is more shopper-friendly and allows for the expanding of product lines." Over two times the size of the previous retail space, the University Store includes areas with merchandise, trade books as well as school supplies and textbooks. Joining the large selection of apparel, books, school and art supplies is Orange Tech. This is an official Apple store where anyone can purchase Apple computers, iPads, printers and software. But Orange Tech does more than just sell Apple products, it is designed to service the equipment as well.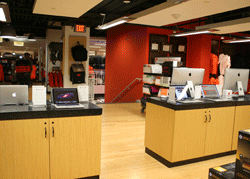 Bryson Baker, Orange Tech assistant manager, is a former Best Buy employee. Baker appreciates the reasonable price of service at Orange Tech. "We can service a hardware problem here for around $50. At an outside retail store the same service could cost close to $100," Baker said. "It is a lot easier to come into the Union rather than visiting the Apple store in Tulsa or Oklahoma City." With a former Apple Genius and two technicians certified in Apple repair working at Orange Tech, customers receive the same service they would get at the Apple store. Technology service is just one of the ways the Union is becoming more service oriented. Another new service added in the Union is a university concierge who is present to answer the countless questions people have about the campus and the university as a whole.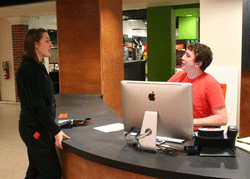 Matt Fletcher has been working in the position of university information coordinator (campus concierge) for more than a year through his temporary location in OSU Communications and he now has a permanent home in the Union. Fletcher can be found behind the long mahogany desk inside the north entrance, across from the University Store. Over the past year he has become the central hub of information for the university and all-around expert on all things OSU. "I'm here to answer any and all questions pertaining to Oklahoma State," Fletcher said. "When there's a question that needs to be answered, I do my best to get an answer in a timely manner." The main purpose of a student union is to create a one-stop location on campus for students, employees and visitors where they can eat, meet and shop. In addition to the updated meeting rooms and food choices, the Union also has several service-oriented businesses in the basement that include banking, the Campus Post Office and a barber shop. For a complete list of services and merchants located in the Union go to:
http://union.okstate.edu/services/
.