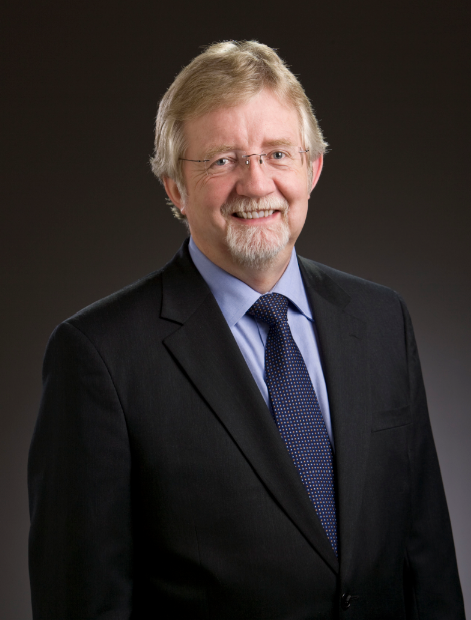 Dr. Stephen McKeever has resigned his position as vice president for research and technology transfer at Oklahoma State University effective Jan. 1, 2014. He will remain a member of the OSU faculty, returning to the physics department and to his own research lab.
OSU will conduct a national search for a replacement and will name an interim research leader before the end of the year.
"We appreciate Steve's leadership during a time of growth in OSU's research initiatives and revenues," said OSU President Burns Hargis. "We are pleased he will remain on campus to continue his own research and lead our energy research efforts."
McKeever will continue leading the National Energy Solutions Institute. NESI provides energy solutions for the current and future needs of the nation by connecting OSU scientists with private, state and federal sectors to enable the nation's transition to a sustainable energy future.
"It has been a wonderful ride and one of the most enjoyable periods in my life at OSU," McKeever said. "Together, including the entire faculty, we have done some great things."
Total research expenditures at OSU have almost doubled since McKeever assumed his role as VP in 2003. He helped build a professional technology transfer program, achieving record-high license income for the university.
McKeever was instrumental in the construction of the world-class Henry Bellmon Research Center, along with the Venture 1 and Morgan buildings at the Oklahoma Technology and Research Park. During his tenure, the university also saw the growth of world-renowned programs in bioenergy research, unmanned aerial systems, high-energy physics, among others.
McKeever joined the OSU faculty in 1983 after attaining his doctorate from the University of Wales and after completing postdoctoral work at the universities of Birmingham and Sussex in the United Kingdom. He became an associate professor of physics in 1986 and a full professor in 1990.
He was named a Noble Research Fellow in Optical Materials in 1987, served as head of the physics department from 1995-99, and as Associate Dean for Research in the College of Arts & Sciences from 2000-03. He was named the MOST (More Oklahoma Science and Technology) Chair of Experimental Physics in 1999. He assumed his current position on September 15, 2003.
An accomplished researcher himself, McKeever is a Fellow of the American Physics Society, the UK Institute of Physics and the National Academy of Inventors. He has authored or co-authored more than 190 scientific publications and six books. He holds six U.S. and nine international patents in the area of radiation detection and measurements.