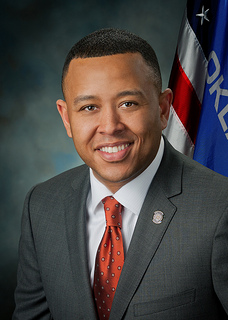 T.W. Shannon, the leader of the Oklahoma House of Representatives, will be the featured speaker at Oklahoma State University's two undergraduate commencement ceremonies set for Saturday, Dec. 14, at Gallagher-Iba Arena in Stillwater.
"Becoming the first African-American Speaker of the Oklahoma House at the age of 34, Speaker Shannon is a trailblazer who is dedicated to public service and leadership," said OSU President Burns Hargis. "We are grateful and honored that he is willing to share his personal insights with our graduates."
OSU will hold two undergraduate ceremonies on Saturday, Dec. 14. The first, at 10:30 a.m., will honor graduates from the College of Human Sciences, College of Engineering, Architecture & Technology, and Spears School of Business. The 1:30 p.m. commencement will honor graduates from the College of Education, College of Agricultural Sciences & Natural Resources, and College of Arts & Sciences. The Graduate College Commencement Ceremony is set for Friday, Dec. 13, at 7 p.m. at Gallagher-Iba Arena.
In a historic ceremony on Jan. 8, 2013, T.W. Shannon took the oath of office to be Oklahoma Speaker of the House, where his stated quest is to restore strong families, and to inspire prosperity through personal responsibility. Considered a champion for limited government, Shannon quickly rose to leadership in the legislature, where he served as deputy majority whip in the house his first term, chaired the powerful transportation committee in his second term and was elected speaker-designate in his third term.
Shannon earned his bachelor's degree in communications from Cameron University and holds a juris doctorate from Oklahoma City University Law School. He worked as a field representative for former Congressman J.C. Watts a decade ago and served in the same position for Congressman Tom Cole the following two years. An enrolled member of the Chickasaw Nation, Shannon worked as the chief administrative officer for Chickasaw Nation Enterprises. Today, he operates a home-based public relations business in Lawton.
Shannon has been married to his college sweetheart, Devon, for 11 years and they have two children, Audrey Grace and Tahrohon. Shannon serves as a youth Sunday school teacher at his local church.
A champion for the state's natural gas industry, Shannon worked to reduce the tax on compressed natural gas, a plentiful Oklahoma resource. He recently made a mark by pushing to liquidate excess state-owned property and he has crafted an eight-year plan to rebuild Oklahoma¹s structurally deficient bridges.
GOPAC, an organization whose mission is to support up-and-coming Republican leaders, recently added Shannon to its national advisory board.
For more information on the undergraduate ceremonies, go to http://commencement.okstate.edu/undergraduate-ceremony. For information on the graduate ceremony, go to https://gradcollege.okstate.edu/content/graduate-commencement