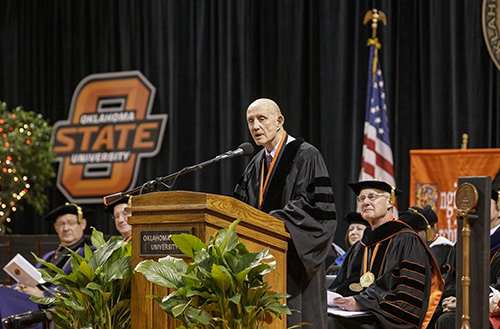 Legendary astronaut and native Oklahoman Thomas Stafford offered Oklahoma State University graduates "10 guidelines for success" Saturday during OSU's 127
th
Commencement at Gallagher-Iba Arena.
Oklahoma State held three undergraduate ceremonies and the hooding ceremony for its DVM recipients from the Center for Veterinary Health Sciences Saturday. The OSU Graduate College awarded doctoral and masters' degrees Friday. In all, about 3,400 students earned their degrees.
During the second undergraduate ceremony Saturday, OSU awarded Stafford an honorary doctor of science degree for his contributions to space flight and aviation. Stafford flew two Gemini space flights and commanded Apollo 10, which was the first mission to fly a lunar module to within 10 miles of the Moon's surface. Stafford is the 25th person to receive an honorary degree from Oklahoma State University.
In his address, Stafford discussed man's remarkable advancements in the past century, telling graduates his mother rode in a covered wagon as her family settled in Oklahoma then 70 years later watched him fly in space on color TV. The 82-year old aviation and space pioneer received a standing ovation following each of his talks.
Stafford challenged the graduates to use their new knowledge to not only improve their lives, but benefit humankind. He offered 10 guidelines for success:
1. How you think is everything, always be positive. Think success, not failure.
2. Decide upon your true dreams and goals, and develop a plan to reach them.
3. Take action. Don't be afraid to get started.
4. Never stop learning.
5. Be persistent and work hard. Success is a marathon, not a sprint.
6. Learn to analyze details. Get all the facts, all the input. Learn from your mistakes
7. Focus your time and resources. Don't let other people or things distract you.
8. Don't be afraid to innovate; be different. Following the herd is a sure way to mediocrity.
9. Deal and communicate with people effectively. Learn to understand and motivate others.
10. Be honest and dependable; take responsibility. Otherwise the other nine won't matter.
OSU/A&M Regents Chairman Andy Lester delivered the address at the third undergraduate commencement Saturday. He told graduates to seize the day and "love what you do and do what you love." He also said to do what is right and be humble. "You know a lot, but you don't know it all."
Saturday's three undergraduate ceremonies recognized graduates from the College of Agricultural Sciences and Natural Resources, Spears School of Business, College of Human Sciences, College of Arts and Sciences, College of Education, and the College of Engineering, Architecture and Technology.
For more photos, go to: http://www.flickr.com/photos/ostatenews/sets/72157633402651051/.