Oklahoma State University student-led business wins $30,000 at Donald W. Reynolds Cup
Wednesday, May 22, 2013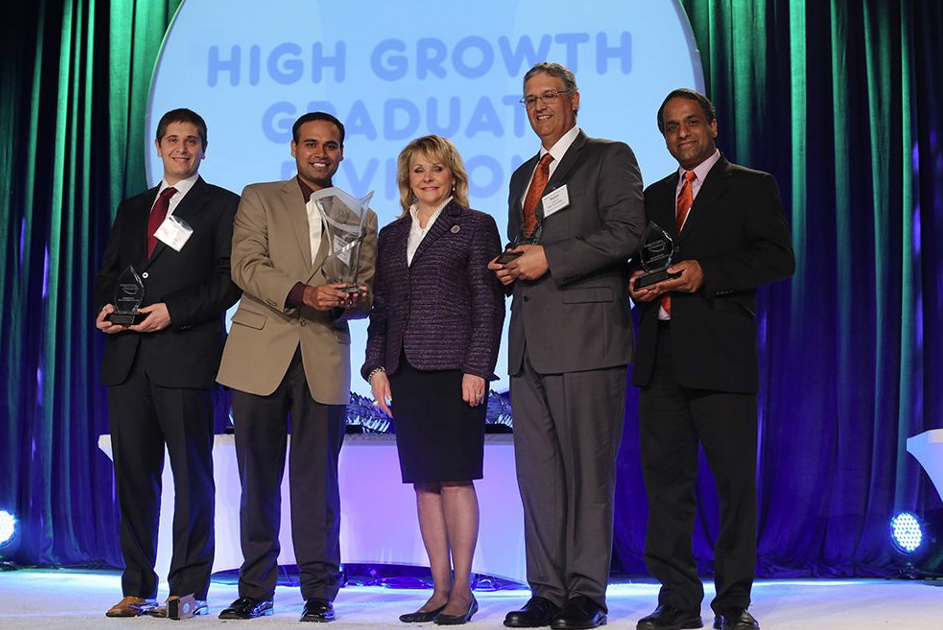 R2R Technologies, an Oklahoma State University student-led business, was one of the major winners at the Tri-State Donald. W. Reynolds Cup business plan competition in Las Vegas on Tuesday night.
R2R Technologies, which includes OSU graduate students Aravind Seshadri, Carol Branca and Pedro Velasco, was named the Graduate Division winner in the business plan competition and won $30,000. The OSU students were competing against the top two teams from Governor's Cup competitions in Oklahoma, Arkansas and Nevada.
"We are very proud of this team and their accomplishments," said Bruce Barringer, interim chair of the School of Entrepreneurship in OSU's Spears School of Business. "Although the students did the hard part, this win is a big step forward for the School of Entrepreneurship and also is an affirmation of the strength of the entrepreneurial ecosystem on the OSU system.
"Along with the School of Entrepreneurship, R2R received considerable support from Prabhakar Pagilla, from Mechanical and Aerospace Engineering, and Steve Price and his group at the Technology Development Center. In addition, Richard Gajan and Craig Watters, two School of Entrepreneurship faculty members, spent considerable time mentoring the team and helping them fine-tune their presentation."
The R2R Technologies team has now won $65,000 in the last two months to grow the business. The group became the first since the inception of OSU's School of Entrepreneurship to qualify for the Tri-State competition by placing second and winning $10,000 in the Graduate Division of the Oklahoma Governor's Cup competition in April. The trio also won $25,000 in the fifth annual Riata Business Plan Competition sponsored by OSU's Riata Center for Entrepreneurship in April.
The three graduate students have developed intelligent guides that use a fiber optic sensor to reduce waste during the manufacturing of flexible materials by keeping materials properly aligned.
The winners were named in an awards dinner at the Cosmopolitan Hotel on Tuesday night after a day-long competition in which teams presented their business plans to panels of judges.
The Tri-State and Governor's Cup competitions are underwritten by the Donald W. Reynolds Foundation. The competition is aimed at simulating the real-world process of entrepreneurs creating a business plan to soliciting start-up funds from potential investors.