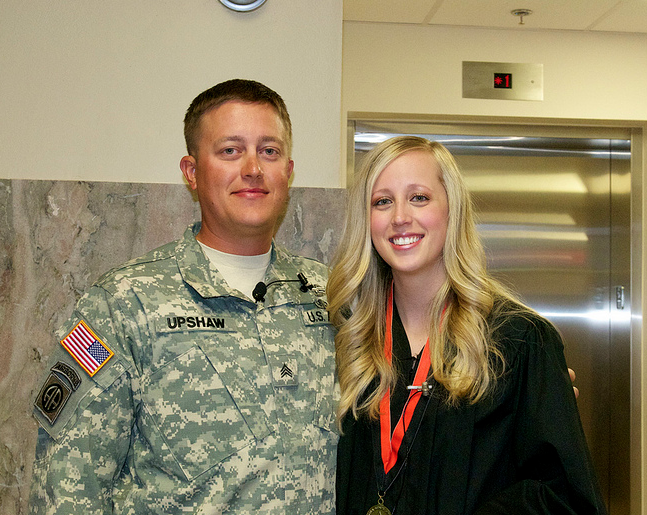 Sgt. Chris Upshaw of the U.S. Army flew to Stillwater from Guam to surprise his sister, Lauren Reid, prior to her graduation from Oklahoma State University's Spears School of Business on Saturday morning. Reid, from Perry, Okla., graduated with a general business degree.
Sgt. Upshaw, who serves with the 523rd Horizontal Engineer Company out of Schofield Barracks in Hawaii, is deployed to Camp Covington on the Naval Base Guam. He surprised his sister by showing up at the Spears School's reception for graduates Saturday morning in the Student Union Ballroom.
Sgt. Upshaw was stationed in Iraq and missed his younger sister's graduation from Perry High School several years ago, but he wanted to make sure to be in Stillwater for Saturday's commencement ceremony.
"There is an 8-year gap between my sister and me. Although there is that gap, we are very close," said Sgt. Upshaw. "I have a very good relationship with my family, and I am blessed to have a sibling that is as loving and caring as she is.
"She has been very supportive of everything that I have done in life and I want her to know how proud I am to have her graduate college. She was able to attend my graduation from basic training and now it's my turn to show her the same support. I want my sister to have a great memory of this day and want it to be extra special for her."
Photos:
http://www.flickr.com/photos/spearsschoolosu/8707655808/

http://www.flickr.com/photos/spearsschoolosu/8707655858/
http://www.flickr.com/photos/spearsschoolosu/8707656014/
Video: http://www.youtube.com/watch?v=1LLq0qd3NT0&feature=youtu.be