OSU Museum of Art Postal Plaza Gallery begins soft opening with community Open House
Friday, October 4, 2013
The Postal Plaza Gallery will open its doors to visitors at a community open house, where the public can get an inside look at the gallery as finishing touches are made to the OSU Museum of Art's first location. The open house, running from 4-6 p.m. Thursday, Oct. 10, will kick off a three-month "soft opening" period as the inaugural exhibition is installed. Sharing a Journey: Building the Oklahoma State University Museum of Art Collection will be fully unveiled in January.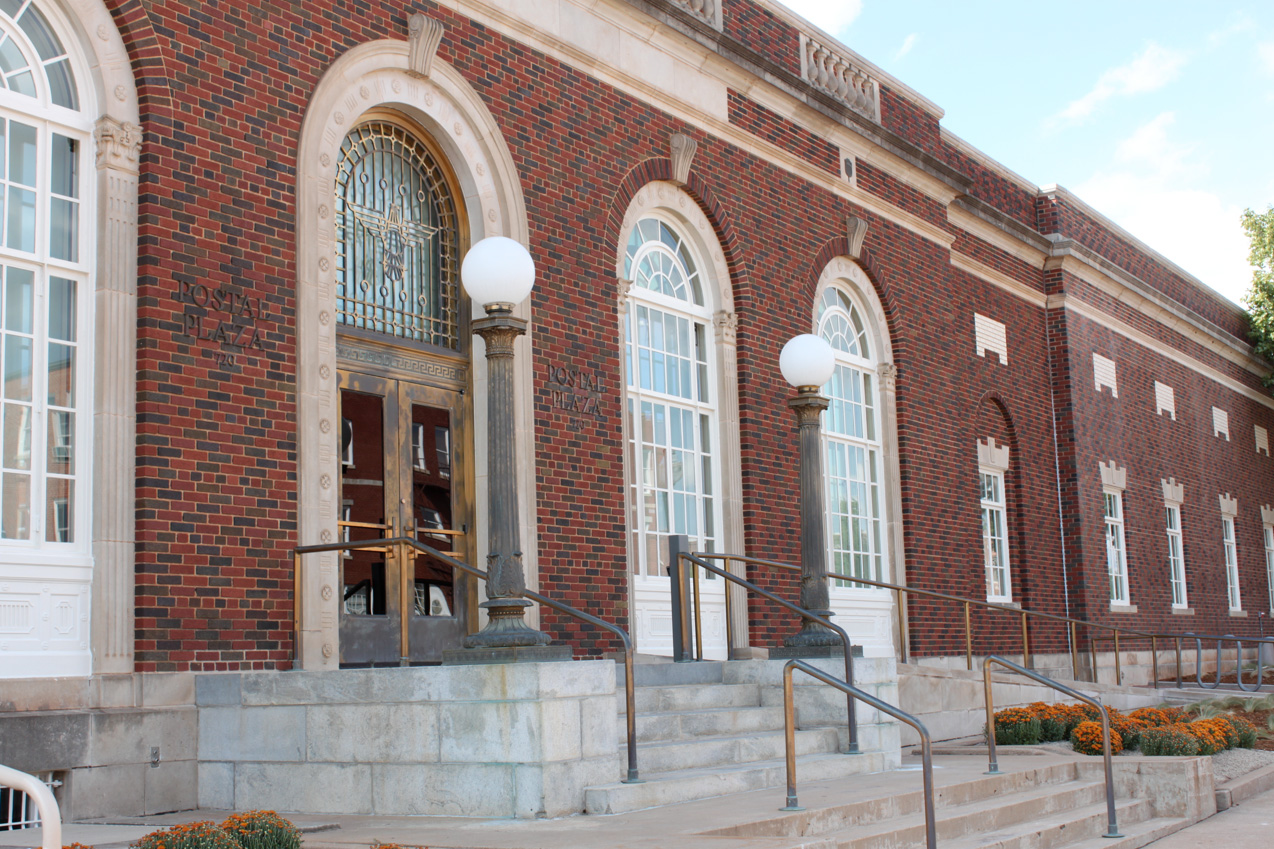 The open house, hosted by OSU President Burns and First Cowgirl Ann Hargis, is open to the public and requires no RSVP. At the open house, visitors will see a preview of the much-anticipated Sharing a Journey exhibition. In addition, a collection of architectural renderings and archival documents presented by Elliott + Associates Architects will provide insight into the creative process of renovating the historic Stillwater Post Office. This special exhibition will highlight many of the unique features of the historic building alongside the new spaces, such as the glass doors that allow visitors to observe students and staff in action.

The event is underwritten by Dick and Malinda Berry Fischer.

"It's important to support art in your community because it gives everyone in that region the opportunity to see and absorb creativity," said Malinda Berry Fischer, chair of the OSUMA Art Advisory Council. "To me, that bleeds over into every form of business and human interaction."
During this soft opening phase, from Oct. 11 to Dec. 20, the Postal Plaza will be open on weekdays from 11 a.m. to 5 p.m., and closed the week of Nov. 25 – 29 for Thanksgiving. Focused on being a teaching museum, the staff encourages community members to stop by during the day and observe the process as the facility makes the final transition from a mailroom to a contemporary art gallery. Visitors will get a behind-the-scenes look at staff and student training, final construction details and the setup of the first full exhibition in January.

Sharing a Journey will be on view from Jan. 14 – May 25, 2014. The exhibition will feature highlights from the OSU Museum of Art permanent collection, ranging from the ancient world to the present day and spanning five continents. It recognizes the ongoing commitment of OSU faculty, staff, alumni and friends who have worked together to build this outstanding art collection, much of which will be on view for the first time.

Community partners Aspen Coffee Company and Rocky Mountain Chocolate Factory will provide refreshments at the open house event.

For more information about the OSU Museum of Art and upcoming programming at the Postal Plaza Gallery, visit http://www.museum.okstate.edu or call 405-744-2780.

The Postal Plaza Gallery is located at 720 S. Husband Street in downtown Stillwater. All exhibitions and programs are free and free public parking will be located the south and east sides of the building.