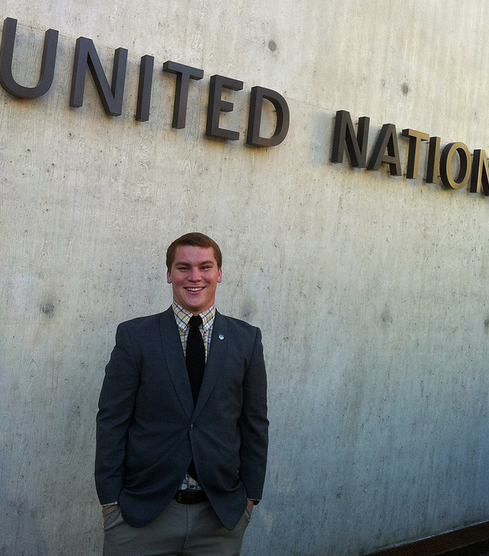 Oklahoma State University student Andrew Gray is taking some time away from the classroom to participate in the Semester at Sea program. The junior from Edmond has been aboard the Mv Explorer for over a month with plans to see up to 15 countries around the world, while earning collegiate credit through the University of Virginia program.
"After graduation, I hope to work in the international nonprofit sector with major concentrations in Entrepreneurship, International Studies and Development. I also have a minor in Ethical Leadership. This experience is giving me a taste of different people who need help," Gray says. "This was the ultimate way for me to get a taste of the world and to see firsthand the issues I will be addressing in the future."
Gray was one of 18 Semester at Sea students chosen to spend four days in Geneva, Switzerland, learning about the United Nations. While in Geneva, he had the opportunity to participate in the UN Human Rights Council annual meeting. Gray was selected to address the council and spoke about global education issues in less developed countries.
Gray has been to Spain, Portugal and Switzerland, and is excited for the rest of his travels. He says that he has been to more countries in the past month than he has been to states in his entire life.
"Although I miss Stillwater from time to time, I'm having the experience of a lifetime," Graysays. "I feel so lucky to be a part of the program."
Gray intends to return to OSU and finish his degree after his time at sea.
For more information please contact Wade Watkins, dean of Global Education wade.watkins@okstate.edu.
By Karly Popplewell