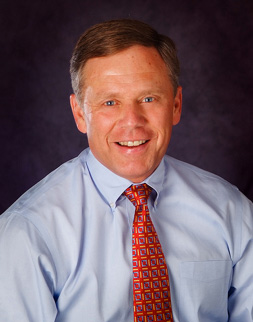 Oklahoma State University's Bruce Barringer has been recognized as one of the Top 25 Entrepreneurship Professors of 2013.
Barringer, Professor and N. Malone Mitchell, Jr. Chair in Entrepreneurship, and head of the School of Entrepreneurship at OSU's Spears School of Business, was the only professor honored from the state of Oklahoma and one of only four chosen from Big 12 schools, in the announcement by 3 Day Startup.
"Barringer has been the director of the School of Entrepreneurship's master's program since 2010 and was recently selected to head the entrepreneurship program for the university. He has taught courses at the Spears School of Business on 'Entrepreneurial Thinking and Behavior,' 'Entrepreneurship and Venture Management,' 'Advanced Entrepreneurship Practicum,' and 'Launching a Business: The First 100 Days,'" 3 Day Startup stated in a release on the top 25 professors.
"Barringer also has written a weekly column, 'The Wall Street Journal Entrepreneurship Weekly Review,' for Dow Jones, Inc., since 1999. The column focuses on entrepreneurship and related issues and is emailed by the Wall Street Journal to nearly 750 professors each week during the academic year," the release stated.
Barringer joined the Spears School faculty in 2009 after previously teaching at the University of Central Florida and the University of Missouri. He was named in August to lead OSU's entrepreneurship program, including the School of Entrepreneurship and the outreach branch, the Riata Center for Entrepreneurship.
He earned his bachelor's degree in agricultural business (1978) and his MBA (1991) from Iowa State, and received his doctoral degree in management from the University of Missouri-Columbia (1995).
"To be recognized as one of the top 25 entrepreneurship professors is an outstanding honor, but it's not a surprise to those of us who see Bruce's daily interaction with students, faculty and staff," said Ken Eastman, interim dean of the Spears School. "Bruce and his team are dedicated to providing great opportunities for the entrepreneurship students at Oklahoma State.
"We are proud to say Bruce is part of the Spears School team, and that under his guidance the School of Entrepreneurship and the Riata Center for Entrepreneurship will continue to grow and develop into one of the nation's best programs," said Eastman.
In August, nominations were sought for university professors who play an integral role in entrepreneurship education by 3 Day Startup, an Austin, Texas-based non-profit organization designed to help individuals start companies over the course of three days. The top 25 were selected after an overwhelming response from students, alumni, university faculty and entrepreneurs.
Here is a link to the complete list of top 25 Entrepreneurship Professors of 2013, http://3daystartup.wordpress.com/2013/09/15/top-25-entrepreneurship-professors-of-2013/