Oklahoma State University students are invited to showcase their creativity and skill to compete for over $21,000 in cash prizes at the third annual OSU App Competition hosted by the OSU App Center, AAA Oklahoma and CSAA Insurance Group, an AAA insurer.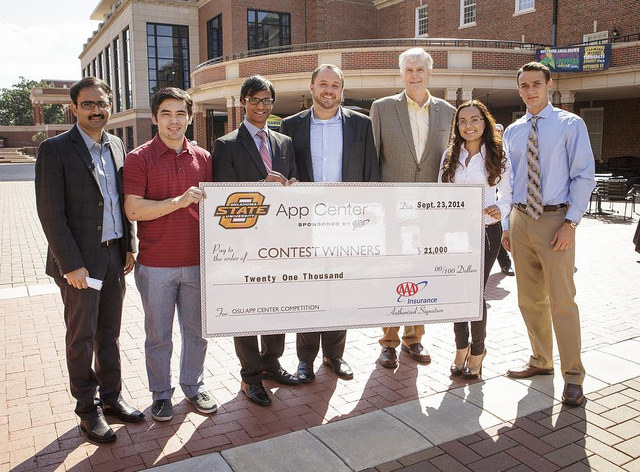 The theme of this year's competition is "Insurance Telematics," which reflects an emerging category of innovation that uses available data, such as vehicle data, mobile device data, and consumer data to enhance and transform the livelihood and insurance experience. The devices that plug into the dashboards of cars to monitor driving habits and link them to the insurance premiums belong to this category.
AAA Oklahoma and the OSU App Center are inviting ideas for an app that would leverage the available data to avoid accidents, reduce injuries, prevent damage to people's homes, and prepare for catastrophes. Ideas shouldn't be limited to what's currently on the market.
"We are thrilled to be working with OSU and AAA Oklahoma on this year's App Contest. Insurance Telematics is a new and rapidly evolving space for the insurance industry and our customers," said CSAA Insurance Group's Senior Manager Will Dogan. "I'm eager to see what creative ideas emerge from this year's group of contestants."
"As we enter the third year of competition, we are thrilled to continue our collaboration with the OSU community. The level of talent and innovation generated by the students is inspiring," said Neal Krueger, CEO of AAA Oklahoma.
The competition is divided into two phases. The first phase is open to all students with an app idea related to the contest theme. The top two ideas from phase one will be awarded $1,250 and the next eight winners will be awarded $500.
The second phase will be open to individuals with app development skills. Teams in this phase will select and develop one of the top two ideas from phase one. Teams that develop the best apps based on the top two ideas from phase one will receive $4,000, and the runners up will receive $2,000.
"We are very happy to continue our relationship with AAA and are very appreciative of their support to our App Center," said Jai Rajendran, manager of the OSU App Center.
The first phase of the competition begins Tuesday, September 23. Ideas will be accepted until Nov. 3.
Ideas can be submitted online at https://appcenter.okstate.edu or emailed to osuappcenter@okstate.edu, or in person at the App Center in the Henry Bellmon Research Center.
For more information on the rules for the competition and how to submit ideas, please visit https://appcenter.okstate.edu.