OSU Music will present "An American Journey" featuring the works of two composers who will be present for the performance Monday, Oct. 13, at 7:30 p.m. in the Seretean Center for the Performing Arts.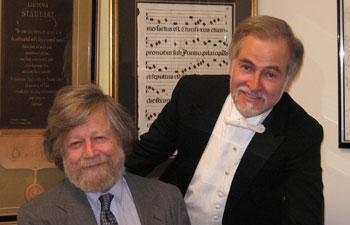 "This is an historic event for OSU, as we celebrate the return of the Presidential National Medal of Arts recipient, composer Morten Lauridsen, who will be joined by accomplished New York composer Matthew Harris," said Dr. Z. Randall Stroope, director of choral and vocal studies at OSU.
Music by both composers will be performed, including Lauridsen's "Sure On This Shining Night," "Mid-Winter Songs," "Dirait-on," and others. Works by Matthew Harris will include "My Heart Leaps Up" and "Shakespeare Songs." Lauridsen received an honorary doctorate from OSU in 2012 for his contribution to the arts.
The OSU Concert Chorale, Chamber Choir and University Singers will be performing under the direction of Stroope and Dr. Christopher Haygood. General admission for the concert is $8 (students and seniors $6).