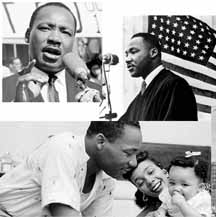 "MLK's Dream: Has it been realized?"
Wednesday, Jan. 22 at OSU Library
The OSU Institutional Division of Diversity, Office of Multicultural Affairs, and NAACP will host a panel discussion on "MLK's Dream: Has it been realized?" on Wednesday, Jan. 22, at 3:30 p.m. in the Peggy V. Helmerich Browsing Room on the 2nd floor of the Edmon Low Library.
Moderator
Jason F. Kirksey - Association Vice President for Institutional Diversity
Panelists
Dr. Rosalyn Green - Director, Equal Opportunity and Title IX Coordinator
Dr. Jesse Mendez - School Head for School of Educational Studies
Morgan Two Crow - majoring in Political Science & Agribusiness and president of the Native American Student Association (NASA)
Danielle King - majoring in Human Development Family Science and president of the National Association for the Advancement of Colored People (NAACP)
Amoha Das - graduate student in the department of design, housing and merchandising
Jesse Anderson - undergraduate majoring in Human Development Family Science, Child and Family Services and president of Oklahoma State Queer and Allies (OSQ&A)
The public is invited to attend. To request more information or a disability-related accomodation, contact June Golliver at (405) 744-5481.
OKStateMLK Celebration Wednesday at 6:30 p.m.
Everyone is invited to celebrate and honor Martin Luther King Jr.'s life and legacy at the second annual OKStateMLK Celebration at 6:30 p.m. Wednesday, Jan. 22, in the Student Union Theater.
OSU student Cheyenne Taylor and Mt. Zion Baptist Church choir will perform music during the event, which will feature the President of Langston University Kent Smith and Pastor Reed James.
The event is sponsored by the OSU Student Government Association, the African American Student Association and Phi Alpha Theta.