The Oklahoma Louis Stokes Alliance for Minority Participation (OK-LSAMP) program will feature one of its former scholars, who is making electronics exciting again, during its 20th annual research symposium on Saturday, Sept. 27, in the Noble Research Center at Oklahoma State University.
OSU alumnus and former OK-LSAMP scholar, Dr. S. Brett Walker, will provide the keynote address for the symposium. He earned his bachelor's degree in mechanical engineering from OSU, and a doctorate from the University of Illinois. Walker is co-founder and CEO of Electroninks, Inc., a company that is revolutionizing the way electronics is taught in school. It is also known for introducing Circuit Scribe, a pen that writes in conductive ink, making it possible for individuals to create working circuits by doodling (see http://www.electroninks.com/). The pen allows students to build circuits by drawing them in a notebook and using them with a battery to turn on a small light.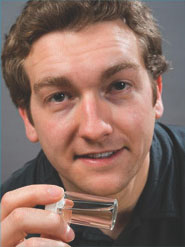 "OSU is honored and excited to host the 20th Annual OK-LSAMP Symposium," said Dr. Jason Kirksey, associate vice president of the OSU Division of Institutional Diversity. "This research symposium offers insight into the next generation of professors, researchers, scientists, and thought leaders who will shape the future of Oklahoma, the nation, and the world."
In addition to Walker's address, OK-LSAMP Scholars from across the state will present posters and make oral presentations on their research projects at the symposium, which is free and open to the public. For an agenda and more information, go to www.ok-lsamp.okstate.edu.
The Oklahoma Louis Stokes Alliance for Minority Participation (OK-LSAMP), funded by the National Science Foundation, supports under-represented students majoring in science, technology, engineering, and mathematics (STEM) disciplines. OK-LSAMP is a senior level alliance designed to develop highly competitive STEM students from historically underrepresented minority populations. The OK-LSAMP alliance consists of 11 comprehensive research and regional universities across Oklahoma.
Since 1994, OK-LSAMP, now recognized as a senior alliance, has assisted over 3,300 undergraduate and graduate students who successfully completed their bachelor's, master's or doctoral degrees. The program nurtures and assists students through undergraduate programs while creating opportunities to interact with faculty and scientists, participate in research activities, present at national conferences and prepare for the transition into graduate programs or the workforce. Program activities include monthly meetings, networking and professional development events, as well as one-on-one guidance and advice. For additional information: www.ok-lsamp.okstate.edu
If you have questions, please contact Kay Porter, program manager (405-744-6710), kay.porter@okstate.edu or Fara Williams, grant coordinator (405-744-7820, fara@okstate.edu).