Oklahoma State University is moving forward with plans for a new Welcome Plaza that will be located just south of the Student Union, across Hester Street from the main entrance to the ConocoPhillips OSU Alumni Center. Plans for the new addition to campus include art by acclaimed horse sculptor Marrita Black. The Board of Regents for OSU/A&M Colleges approved the project Friday.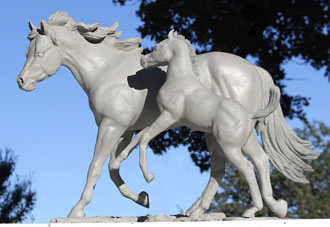 This area has been a designated gathering point for prospective and new student orientation groups and is many times the first impression of the university for students and families.
The proposed Welcome Plaza will provide an appealing space that connects the Undergraduate Office of Admissions in the Student Union and the ConocoPhillips OSU Alumni Center. The Student Union hosts some 2 million visitors and the Alumni Center some 300,000 visitors each year.
"The new landscape and plaza will vibrantly greet these visitors, potential students and their families, as well as provide a peaceful gathering spot for alumni, current students, and employees," said Steve Dobbs, manager of OSU grounds and landscaping.
The featured attraction in the plaza will be two bronze sculptured horses, a mare and her colt that represent strength and experience and youthful enthusiasm. "The objective for the plaza design and the art piece is to convey excitement and a strong bond of community that exists at OSU," said Dobbs.
Design, development and construction of the plaza will coincide with the artist's design work. Funding for the project will come from legally available funds and private donations. The plaza should be completed by 2016.