Fifteen Oklahoma State University undergraduate students will receive $8,000 scholarships and the opportunity to conduct supervised research in a university lab as 2014-15 Niblack Research Scholars. The annual program is funded by OSU alumnus John Niblack, who wants to give the students an early chance to do real scientific research that goes beyond book study or the routine lab experience.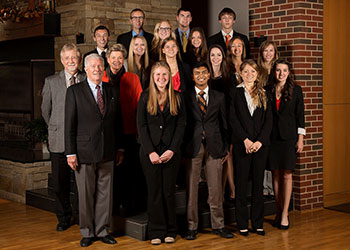 "The scholarships permit them to do frontline research with the supervision of a professor and a graduate student mentor," said Niblack, who had a similar experience himself as an undergraduate student at OSU. He went on to become a scientist and a vice chairman for Pfizer Inc., a multi-billion dollar pharmaceutical company.
"Research as an undergraduate is crucial to the field that I'm going into," said OSU psychology major Elisa Duell from Alva, Oklahoma, a 2014-15 Niblack scholar. "I'm able to get my feet wet in a sense by gaining an understanding of all aspects of the scientific method before I'm in graduate school."
The 2014-15 Niblack Research Scholars are:
Kelsey Anderson, a physiology/pre-med major, Edmond, Okla.
Kristina Baker, a microbiology/molecular genetics major, Sands Springs, Okla.
Erica Crockett, a nutritional sciences major, Stillwater, Okla.
Rachel Davis, a chemical engineering major, Fort Smith, Ark.
Elisa Duell, a psychology major, Alva, Okla.
Katherine Janike, a nutrition/pre-med/Spanish major, Lincoln, Neb.
Brett Johnson, a horticulture major, Stillwater, Okla.
Casey Landis, a biochemistry/molecular biology/pre-vet major, Skiatook, Okla.
Christian Ley, a biosystems and agricultural engineering major, Broken Arrow, Okla.
Julia Matera, an animal science and biochemistry major, Columbia, Mo.
Jonathan Mitchell, a mechanical and aerospace engineering major, Broken Arrow, Okla.
Joshua Mouser, a natural resource ecology and management major, Stillwater, Okla.
Nadir Nibras, a mechanical engineering major, Dhaka, Bangladesh
Will Shaffer, a biochemistry/molecular biology major, Carthage, Mo.
Ashley Simenson, a nutritional sciences major, Howard Lake, Minn.
Videos about the students and their research are available at http://niblack.okstate.edu.
Niblack founded the scholars program in 2004. He worked for Pfizer as a scientist from 1967-1980, directing research into drugs for viral illnesses, cancer and autoimmune disorders. He was appointed director of research for the company's U.S. laboratories in 1980 and named president of Pfizer's Central Research Division in 1990. He became vice chairman in 1993 and retired in 2002.