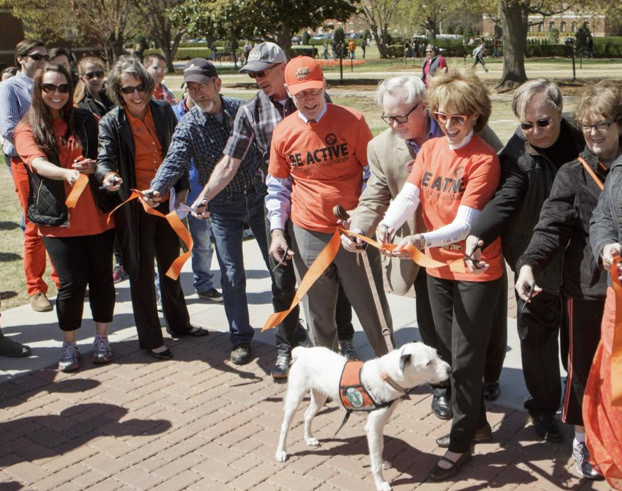 Oklahoma State University President Burns Hargis and First Cowgirl Ann Hargis, along with Chief Wellness Officer Suzy Harrington and a crowd of students, faculty and staff, officially opened the Cowboy Walking Trails on Tuesday, April 15, with a ribbon cutting and walk along one of two trails that wind through the Stillwater campus.
"Ann and I are very excited about the Cowboy Walking Trails," said President Hargis. "This is a very simple way of providing another opportunity for our students and employees and any visitor to our campus a marked trail to encourage an active lifestyle while enjoying the beauty of this campus."
The Orange and White Trails run throughout campus and are marked with bronze medallions. They range in distances from .66 miles to 1.3 miles. The indoor walking trails are located inside the Student Union.
The grand opening celebration started with the walking of the Orange Trail, beginning at the corner of Legacy Walk and Hester Street. The Orange Trail is just under a mile long.
The walk ended at the Student Union Plaza with a "Be Active on the Plaza" festival, where students and employees got the chance to discover all of the wellness programs and activities available at OSU. Various prizes were also given away, including an iPad mini, one semester OrangeRide Bike Rental and personal training sessions.
"Our goal of becoming America's Healthiest campus is being achieved everyday because of the focus this university and its people place on their own well-being," said Harrington. "Whether its OSU's programs supporting a student's emotional and mental health through University Counseling or stress management in the Reboot Center, or the facilities, classes and activities that promote an active lifestyle through the Colvin Center, OSU has made a commitment to the overall wellness of its students and employees."
In addition to officially opening the Cowboy Walking Trails, the celebration also marked the beginning of the OSU Active Lifestyle Campaign. Although wellness incorporates much more than physical fitness alone, becoming active will be the campaign's first focus. OSU encourages students, employees and the community to get moving and be active and have fun doing it.
For more information, including maps of the trails, visit wellness.okstate.edu.
PHOTOS:
https://www.flickr.com/photos/ostatenews/sets/72157644016205355/
Story by Jackson Hodges