Three Oklahoma State University students, Shane Morrison, Amber Anderson and Grant Williams, were honored for outstanding research presentations at the Society for the Advancement of Chicanos and Native Americans in Science national conference in Los Angeles.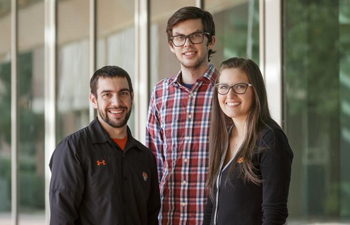 Morrison, a doctoral student from Stillwater studying zoology and interdisciplinary toxicology, was one of 10 students honored for his oral presentation in environmental science.
Anderson, a biochemistry and molecular biology senior from Warr Acres, and Williams, a sophomore from Tulsa studying physics, were recognized for their outstanding poster presentations in the health and physics categories, respectively.
"The awards highlight the exceptional quality of students that we are attracting to OSU," said Dr. Jason Kirksey, vice president of the office of institutional diversity. "The achievements of these students highlight the value of diversity at OSU and to society as a whole."
The three students were among 30 OSU Native American and Hispanic students who attended this year's conference, which featured more than 1,200 poster presentations and 100 oral presentations.
The OSU Division of Institutional Diversity supports these students through the pilot program, Science Scholars: the Native American Path. Since its launch in Sept. 2012, SSNAP has been committed to increasing the number of American Indian students in science, technology, engineering and mathematics careers.
SACNAS is a society of scientists dedicated to fostering the success of Hispanic, Chicano and Native America scientists, from college students to professionals.
Story by Kaitlin Loyd