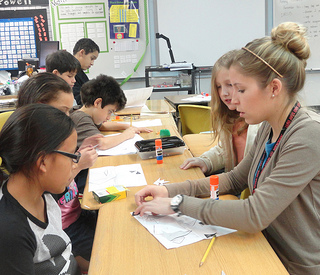 Oklahoma State University tops the list of the best colleges in Oklahoma for teacher education, according to the Online College Database, a directory of colleges and universities across the country. OSU is No. 1 on the "Shaping the Next Generation" list for top colleges in Oklahoma.
OSU's College of Education offers undergraduate degrees in elementary education, secondary education, career and technical education, physical education and special education. The University also has degree programs in agricultural education, music education and early childhood education. The College of Education also has graduate programs in educational leadership studies, educational psychology, education technology and teaching, learning and leadership with an array of concentration options.
In 2012, OSU awarded 485 education degrees. All education degree programs require that students spend many hours on campus and also working with children and/or adolescents and their teachers in K-12 schools.
To create its rankings list, the College Database analyzed subsets from multiple government and commercial sources with an eye on degrees awarded in education and teaching. Primary data sources included the following:
• The Integrated Post-secondary Education Data System (IPEDS) collects academic, demographic and a wide range of other data points from colleges and universities across the country. IPEDS has teams of researches working with institutions regularly.
• The National Center for Education Statistics (NCES) analyzes college-related data and identifies trends at the student and institutional levels.
• The Carnegie Classification system provides common organization across all institutions when it comes to institutional characteristics.
To be included on the list, every college must be a fully accredited, four-year public or private not-for profit college in the U.S. with at least 10 graduates from education or teaching disciplines in 2012.
Link to database:
http://www.onlinecollegesdatabase.org/online-colleges-in-oklahoma/#Best-Colleges-Shaping-the-Next-Generation-Oklahoma