American Airlines delivers retired MD-80 to OSU for hands-on learning, STEM study
Wednesday, September 23, 2015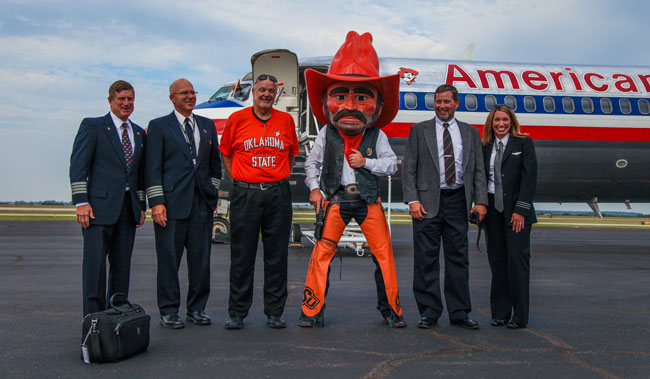 American Airlines delivered a retired MD-80 passenger airplane to the Stillwater Regional Airport today, handing it over to Oklahoma State University in a ceremony after a quick flight from the airline's Tulsa Maintenance Base.
The plane, sporting a freshly added decal of Pistol Pete on the fuselage, will be used as a hands-on classroom for OSU students in the School of Mechanical and Aerospace Engineering as well as a learning lab for kindergarten through 12th grade students studying science, technology, engineering and math (STEM).
OSU President Burns Hargis thanked American Airlines for the donation and emphasized the important role of corporate partnerships to research and education at OSU.
"Thanks to American Airlines. They have given us a pinnacle in aerospace engineering research. Now instead of being an airplane, it's a lab," said Hargis. "It is going to advance our already great aerospace engineering program."
Oklahoma Lt. Gov. Todd Lamb also thanked the airline, adding that MD-80 N491, the plane's registration number, will be an important part of training Oklahoma school children in STEM subjects that will give many "a conviction to pursue a career that they now can do in Oklahoma," he said.
"Aerospace in Oklahoma is a multibillion dollar industry. It will continue to be thanks to research opportunities like this at Oklahoma State," Lamb said.
Bill Collins, American Airlines vice president of base maintenance, provided a few statistics about the plane, which logged more than 75,000 flight hours and carried more than 4 million American Airlines customers. He also explained why the airline donates retired planes to education.
"As we look at the future of our workforce, we must invest in students now so we don't fall behind," said Collins. "This will be a great asset to help us recruit qualified maintenance technicians and engineers and will help keep top students and quality talent right here in Oklahoma."
The MD-80 will be maintained at the Stillwater airport, but will not fly again. A workhorse passenger jet used by many U.S. and international airlines, the MD-80, originally built by McDonnel Douglas, was introduced in 1980 with production ending in 1999. American Airlines is currently phasing out its fleet of the aging aircraft and has donated six of the planes, three of which found new homes in Oklahoma.
PHOTOS: https://www.flickr.com/photos/ostatenews/albums/72157658943237446