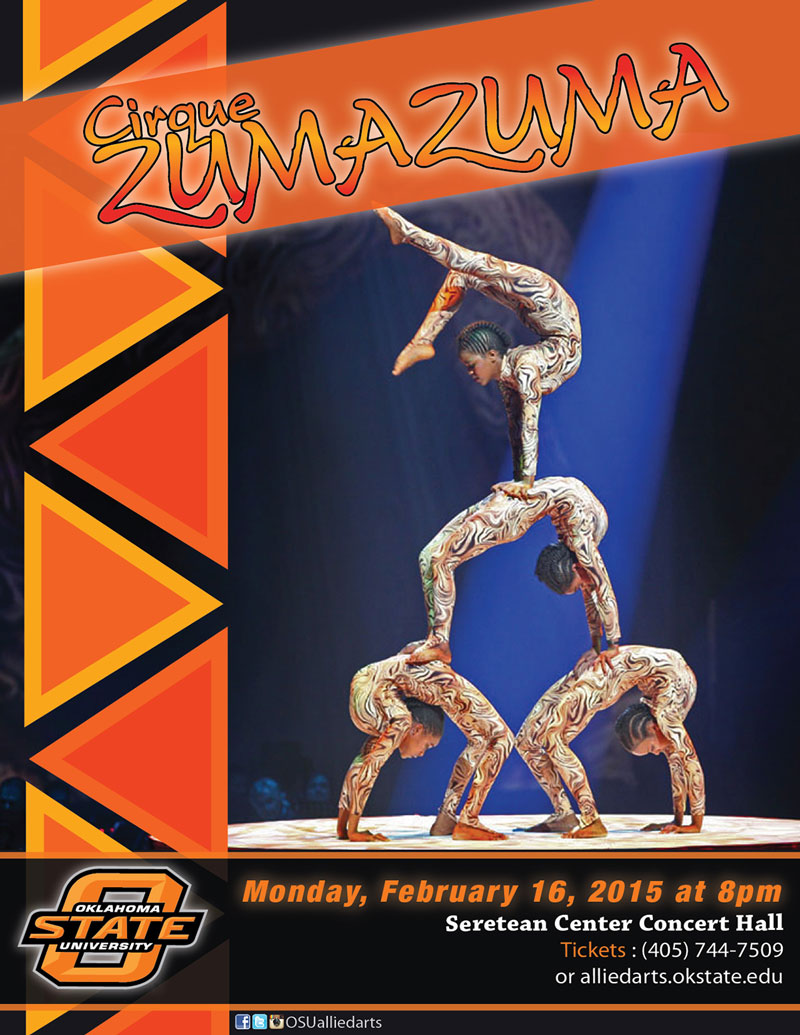 First recognized on "America's Got Talent," Cirque Zuma Zuma is a vibrant and exuberant group that blends a medley of nonstop acrobatic action, upbeat rhythm and African culture into a five-star show set for Monday, Feb. 16, at 8 p.m. in the Seretean Concert Hall at Oklahoma State University.
After sold out seasons in Europe and Australia, Cirque Zuma Zuma offers Oklahoma its special combination of culture and cirque with never-before-seen acts that include dance, music, acrobatics, tumbling, juggling and contortionism. Every second of the nonstop theatrical cirque performance will keep viewers enthralled and captivated by the mysticism of Africa and its rituals.
"We are very excited to host Cirque Zuma Zuma this year at OSU. The group's performance will give Stillwater a chance to see a very unique streamline of talent that is truly indescribable," said Brandon Mitts, manager of OSU Allied Arts & Special Events. "Each piece is rooted in the cultural history of Africa, and performed by individuals trained in Tanzania, Ethiopia or Kenya at academies dedicated to carrying on the traditions of African dance and acrobatics, which originated more than 2,500 years ago."
Tickets for Cirque Zuma Zuma are $18 for adults and $10 for children 12 and under. Tickets can be purchased online at alliedarts.okstate.edu or by phone at 405-744-7509. Tickets will be available at the OSU Seretean Center Concert Hall starting at 6:30 p.m. the evening of the performance. Doors open at 7:30 p.m. For more information call the Allied Arts office at 405-744-7509.
Cirque Zuma Zuma's performance is the fifth performance in the 2014-2015 OSU Allied Arts series, which includes six annual performances designed to enrich the lives of students and area residents. The OSU Allied Arts office has offered top-notch talent on the Oklahoma State University campus for decades. For more information about Allied Arts and Cirque Zuma Zuma, visit alliedarts.okstate.edu.